Objective is to upgrade the existing lamp holders in various switches with a 3mm white LED that contains an internal resistor that allows the LED to run on 12 volts.
Source for the LED can be direct or Amazon.
Direct link,
12V LED Lamps - Resistor LED Lamp
, part number
R300TW4D
Amazon,
https://amzn.com/B00RRBPJ4M
[IMG]
&mpt=[CACHEBUSTER]">[/IMG]
Top of this image shows original on the left, with the right switch already upgraded to the LED. Lower portion are both switches with the upgrade.
The camera compensates for the lower brightness of the original, causing the LED lamp to look slightly overexposed, and slightly blueish. To the eye, it is brighter than the original, and is more pure white than blue white.
Same process to remove the bulb from the holder as described in my past thread.
Repair Switch Lamp
[IMG]
&mpt=[CACHEBUSTER]">[/IMG]
With the bulb removed, I marked one side to help visualize the negative side.
[IMG]
&mpt=[CACHEBUSTER]">[/IMG]
LED in the holder. I sanded the lens a bit to give it a diffused look. This will allow the light to bounce around more inside the switch housing. Where the lead folds over the top of the holder, you may need to file this down some with a small fingernail file. The original lamps have much thinner leads, so by sanding this area, it should allow the holder to twist back into place with little problems.
&mpt=[CACHEBUSTER]">
Testing to make sure it lights up correctly.
[IMG]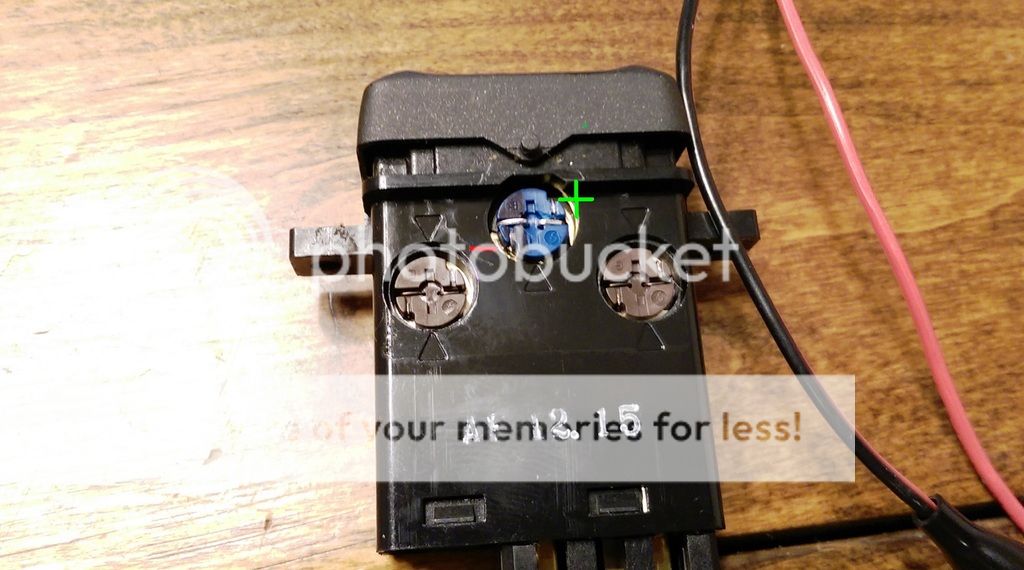 &mpt=[CACHEBUSTER]">[/IMG]
The positive side of the switch is the 1 – 3 o'clock position, where the negative is 6 – 9 o'clock position. By marking the back of the lamp holder, I know the polarity is correct, fully assembled.
Optional:
[IMG]
&mpt=[CACHEBUSTER]">[/IMG]
If you want to add any dielectric grease, you can add it to the copper pads that make contact to the lamp holder and to these two contacts for the connector.