After much searching on the web and on the various forums I found nothing detailing the procedure of doing an A/C Bypass/Delete. So here it is. I am on my 3rd A/C compressor currently. OEM bearings shat the bed, found a replacement w/lifetime warranty (denso) for around the same price as the new pulley/clutch/bearing assembly would cost so I decided to go that route. The first one I installed and the clutch was smoked, it was literally shooting out metal shavings with every revolution. I called the company and they could hear it over the phone and sent another one out, no questions asked. They didn't even want the original one back. So I installed the second one and it was making a little bit of a squeal when the clutch engaged so I decided to wait for a bit and after about 100 miles it was broken in and worked great. About 6 months later after a particularly wet and humid fall I started my car one morning and it was squealing again. I thought it might just be condensation on the belt from all the rain and humidity and it would eventually go away. It did go away because it turned out to be another bad bearing just heating up and eventually quieting down. I didnt feel like paying the money for an evac and recharge and didnt want to go through the process of changing the damned thing out again in such a short time frame so I decided to just bypass the sum***** and wait til summer comes around again to fix it properly. I dont even use the A/C much at all but it is vital in removing fog from the interior of the windows. Anyway this is as straight forward a DIY as they come.
Step 1: Remove your current belt. Stock for the J30A4 is a 6 Ribbed 84 in. belt.
Step 2: Reroute the belt using this diagram-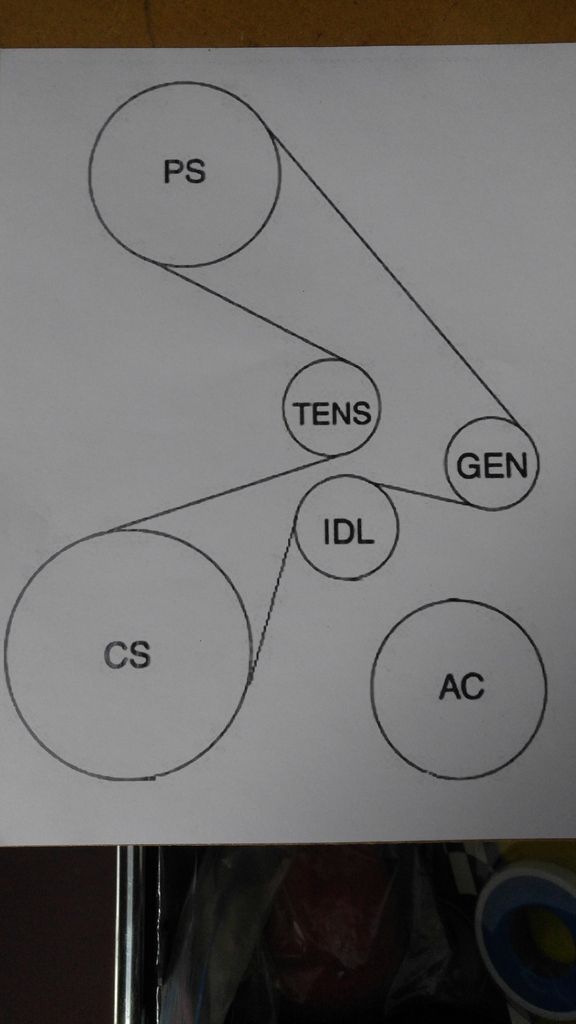 &mpt=[CACHEBUSTER]">
Step 3: Pull the under hood fuse labeled MG CLUTCH (7.5a)
Thats all there is to it. Through trial and error I found the correct belt size is 70.25in. Coincidentally, thats the same size as the 2.4 accord (approx).
This is what I got and the detent on the belt was proper after releasing the tensioner.
&mpt=[CACHEBUSTER]">