So i recently picked up some 2012 Honda Civic Si wheels for cheap. They were cheap because the idiot spray bombed them black and the tires were garbage. So i decided since they were already painted... i might as well have some fun with this! I wanted a gunmetal color similar to the Mugen GP wheels.
Materials:
100 Note cards
4 sheets of 320 grit sanding paper
4 sheets of 2500-3000 grit sanding paper
1 can Duplicolor Primer Sealer
3 cans of your favorite color
3 cans of Duplicolor Engine Enamel Clear
Dawn Dish Soap
Compound
Polish
To start off, you want to wash the wheels completely inside and out with dawn dish soap. Use a 1oz/gal dilution. Dry them off with a towel, then start sanding with the 320 grit. Make sure to get all the little cracks.
Wash the wheels again using the Dawn water. Let the wheels COMPLETELY dry. I went so far as to taking a Shop Vac and sucking water out of tighter creveses and around the wheel. Next line the wheels with the note cards.
Now we start the primer. Do 2 light coats and the rest medium coats, 10 minutes in between coats. Just like the can says
Next we go to our colors, i personally picked Duplicolor Silver Metallic Wheel Paint. I got two cans of this stuff. Again, 2 light coats, the rest medium. Making sure you get the sides of the spokes? Good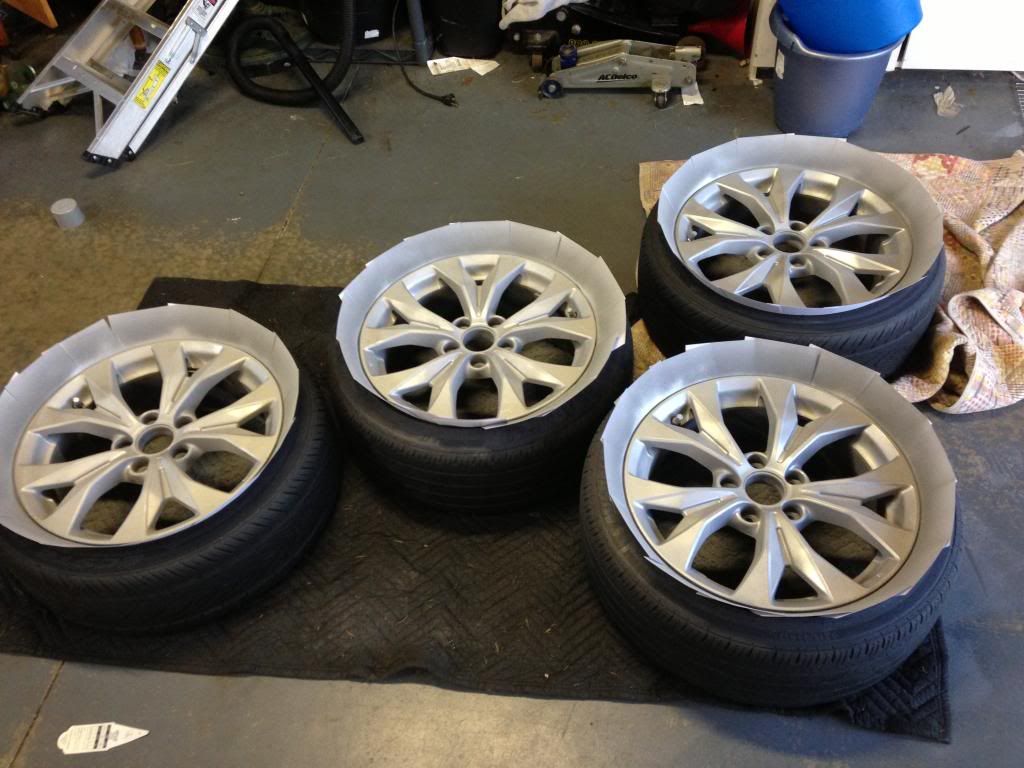 Since Duplicolor doesnt make a Gunmetal wheel paint, i decided to put some dark Graphite Metallic over the silver to make my own Gunmetal
. I did 3 light dustings of it. NOW let the wheels dry over-night.
Now that your done your colors, time to do some wet sanding with the 2500-3000 grit! This sanding job will likely be more tedious than the last. Small strips of sand paper are you friend here, so tear them up into little 3x3in squares. Grab a hose and wet the wheel down, i have a constant light stream of water on whatever spot im sanding. Get everything smooth! The clear coat will stick to the paint better, and actually look like a clear coat.
Almost done!
Now use some Dawn wash again to clean the wheels up and make sure the wheels are dry before you spray. Again 2 light coats, the rest medium. It is ok if the clear runs a little bit, it will all dry clear. After you unload 3 cans of clear on these wheels, it should look pretty darn good. Almost OEM quality... almost.
Let this freshly cleared wheels cure overnight again.
Grab your compound. I am using Meguiar's M105 Ultra Cut, but most of you probably wont have that laying around. So walmart has Turtle Wax Rubbing Compound and Polishing Compound for $3 each, go grab those. Start with the rubbing compound and a microfiber towel. For those that have never used compound... think of sanding, but with a cream instead of paper. Then move to the polishing compound. Finally hit it with a spray wax or some kind of protection.
Ill have my final image up in a week. I am going out of town for awhile. Ill be compounding and polishing when i return.
Hope this helps some people who want to do a proper just painting their wheels.