235/45 17" has a rolling diameter
very close to the stock V6 6MT's
but overhangs the stock 7' rim too
much and may lift the center of
the contact patch if the inflation
isn't right. They would fit right on
a 7.5 or ideally 8 inch rim. I'll be
getting some forged alloy 17x8"
rims shod with 235/45 Avon Tech
M500 skins for daily driving. Handling
and tire adhesion is way more than I can
probe on the street with the 235/45s.
The 200 tread wear 235/45 17" Generals
I have on my Rota 17x7" I'll save
for the dragstrip. I picked up a 10th or so
with the 235 over the 215 sized tire.
Current setup with General 235/45 17"s on 7" Rota wide rims.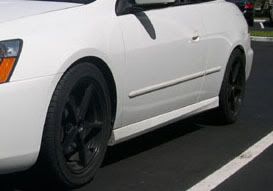 Avon Tech M500 215/50 17"s on 7" Rota rims.