bordeaux red 1994 Honda Accord LX
clean title in hand
tags are current (smogged 2 months ago and passed. tags renewed last month)
165,xxx miles
manual 5 speed transmission
air condition works
drives super nice
no problem with it what so ever
the only problem about it is a cracked windshield and a cracked front bumper
there are little dings here and there, but what do you expect from a used car that's 16 years old
the car is priced at $3,100 on KBB and i've spent over $5,500 on cosmetics &
maintenance was always taken care of
motor is stock
interior is clean!
selling the car as is
no part outs (until i sell the car)
reason for selling, want something different
negotiable but of course i wont accept soooooper low ballers
i'm not in a rush to sell
i can sell the car cheaper if i put the car back stock. but will include the 5lug conv, roh conv, rear disc conv, and little things like SiR sidemarkers and stuff (over 1.5k worth of oem parts) everything else is back to stock. like suspension, kit, lights, and other jdm parts.
price: shoot me offers! (don't be shy, but don't take advantage)
trades: let me know what you have
cons:
will eventually need new cv axles ($100-$120 for both), hole in front bumper (i'll throw in a fresh oem bumper, which is at a body shop getting painted at the moment)
her fame:
http://fatlace.com/hellaflush/dope-f...-flushness.htm
Clean Honda Accord Sedan | Stance:Nation - Form > Function
One Bad Accord. | Stance:Nation - Form > Function
Cosmetics/Exterior
SiR JDM black housing headlights
SiR turn signals
SiR clear side markers
JDM Atlantic grille (optional)
96-97 front end bumper conversion
polyurethane Stillen front lip
Mugen side skirts
custom rear valence
VIP Junction rear bumper (optionall)
Mugen rear diffuser
Ganador super mirrors (optional)
OEM hood bra (optional)
6000k 35w SVSHID
SZ rear roof wing
gloss black roof vinyl overlay
Engine:
stock f22b2 motor
custom 2 piece 3" CAI
custom blast pipe with 2.5" frontier resonated piping.
Wheels/Suspension/Stoppers:
Varrstoen (current setup)
front: 18x9.5 +12 w/ 215/35/18 nankang super sport
rear: 18x10.5 +22 w/ 225/40/18 riken
ksport kontrol pro 36 way
12kg front and 7kg rear
Ground Control front strut bar (optional)
Ground Control rear strut bar (optional)
Skunk2 lower tie bar (optional)
5-lug conversion
rear drum-to-disc conversion
SiR rear trailing arm
ITR front and rear wheel hubs
Odessey front knuckles
ITR/Odessey front rotors and calipers
2000 Accord V6 rear rotors
Interior:
NRG short hub
NRG quick release
NRG wood grain chrome spoke 350mm steering wheel
Kenwood DNX5120 navigation/DVD/satellite (will not include)
Power Bass 6x9 speakers
Pioneer tweeters
Security:
Crime Stopper
2 way pager alarm system
remote with digital screen
extra remote
NRG steering wheel hub cap/lock with 2 keys (optional)
**parts that say "optional" are pending part outs that are on hold to potential buyers or parts i think i want to keep, I can include them upon request (price of sale will vary of course)
**I will also include brand new OEM balance shaft belt, timing belt, water pump, o-rings, and valve cover gasket, and oil pan gasket.
some old pics: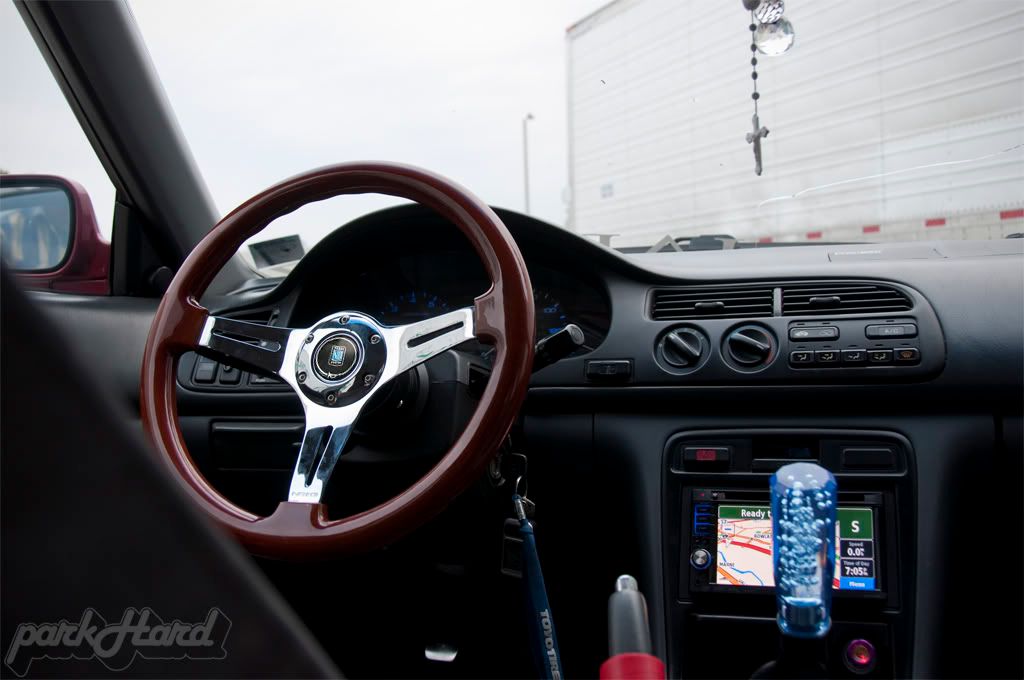 back in november '08
current:
added:
short video:
There may be some other parts i forgot to mention, but if there are any questions please pm me.
thanks for looking...
UPDATE! 11/16/2010
november 16,2010 i have done:
fuel filter
full valve adjustment
spark plugs
wires
dist cap
carburetor cleaning
valve cover gasket
oil change
power steering fluid change
(ALL OEM products except for oil change/oil filter and fuel system cleanup)
tomorrow november 18, i will be doing full fuel system clean-up
i still have all the OEM timing belt, balance shaft belt, water pump, and cam seals. but i will never have the time to do it. so i will still include it but the replacement will be on you.
a smooth as the car runs, i just want the car running smooth as butter as i can for the next buyer with no additional charge, under my own expense. i swear my car gets about 32 mpg now.