Selling these speakers. I got them as a gift a couple years ago, but they did not fit in my 01 coupe without using 1/4 inch spacers. I'm looking for something more compatible. These are newish, not BRAND BRAND new because i did run them a little to see how I like them. I definitely love their sound and wish they were just a little smaller so I could keep them. I'm no audio expert but even I can tell the huge difference in quality over stock, especially when you amp them. They are 50W RMS and have only been tested with a Pioneer headunit making 50w per channel (probably like 15 RMS), and a Bolt Amp making 50w RMS per channel. So, these have not been abused.
Comes with all packaging and the grilles. I can include the spacers as well upon request, which cost me 10 or 15 bucks to buy, I forget.
I'm asking $45 for the speakers. Sonix Electronix sells em new for $60.
MB Quart isn't as much a household name as pioneer, alpine, infiniti, or rockford fosgate, but it's a high quality german brand for those in the know. I like that the frame is steel and the magnet is beefy, and the overall unit has a high quality fit and finish to its construction. Not to mention the sound is very good, it makes crisp notes (You'll hear instruments in the background that you never knew were there) and it can also make pretty potent bass for a speaker.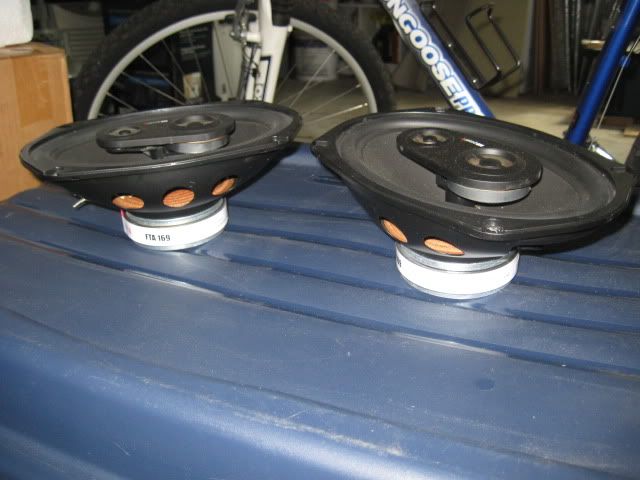 6" X 9" Formula Series 2-Way Car Speakers
Power Handling:
Peak: 360 watts per pair / 180 watts each
RMS: 100 watts per pair / 50 watts each
Dark gray polypropylene cone
Butyl rubber surround for smooth speaker response
3/4" (19mm) Titanium dome tweeter
Woven tinsel leads
Progressive grille
4 ohms impedance
High temperature voice coil
Spade speaker terminals
Top-mount depth: 3-3/8"
Will ship at buyer's expense.
Willing to trade, but prefer a local trade only.