Item for Sale:
Set of four (4) OEM Honda Accord 8G HFP wheels mounted/balanced with four (4) Continental DWS (Dry-Wet-Snow) All-season tires
Location:
Pittsburgh, PA - local pick-up preferred. Shipping at buyer's expense will be considered. I may be willing to drive an hour or two to meet a serious buyer.
Price:
Asking $1,200
Warranty:
NONE. Wheels/tires are being sold AS-IS. No warranty, refunds or returns will be honored.
Condition:
Very good
Feedback:
100% eBay, CL, DriveAccord, V6P
I have finally decided to let my favorite set of wheels go. I will be moving in a couple months and do not feel like having to move them. I purchased the wheels brand new from Honda, and with the Continental DWS tires my total was over $2,200. The wheels immediately got coated in Plastidip in order to preserve their quality. The barrels still have 6 coats of matte black on them - if the new owner decides to peel the dip off, the barrels will
literally
be brand spankin' new! The faces were coated for 2 summer seasons and then I decided to peel off the dip to sport the OEM painted finish.
The wheels are in immaculate shape with very minor wear. There are no TPMS included as I sold them separately due to the 7G Accords not having a tire monitoring system. 8G-9G owners can transfer their stock TPMS sensors over to these wheels or purchase another set separately.
The Continental tires were purchased brand new from Discount Tire Direct (second pair) for around $800 in which I also purchased four warranty certificates. They are rated for 50-55k miles. The size is 235/35R19 - for the 7G, these tires are the same diameter as the stock 17" wheels - your speedometer will be dead on (60mph is 60mph).
The front passenger tire (wheel #1) was just replaced due to a non-repairable flat tire - I believe it was some sort of road debris. I immediately pulled over and replaced the wheel with my full size spare - I did not drive at all on the flat tire and the wheel was never affected / damaged. This is why the one tire (#2) is 7.5/32nd and the other tire (#1) is 9.5/32nd - they were both the same tread before the tire replacement. The other two tires (#3 & #4) are 6/32nd as they were mounted in the front for 5k miles. The flat tire incident occurred just shortly after I had done the tire rotation, moving the two 7.5/32nd tires up to the front.
The wheels are 19x8 +55mm offset 114.3mm 5-bolt lug pattern and will fit many Honda / Acura vehicles such as the Accord Civic TL TSX etc.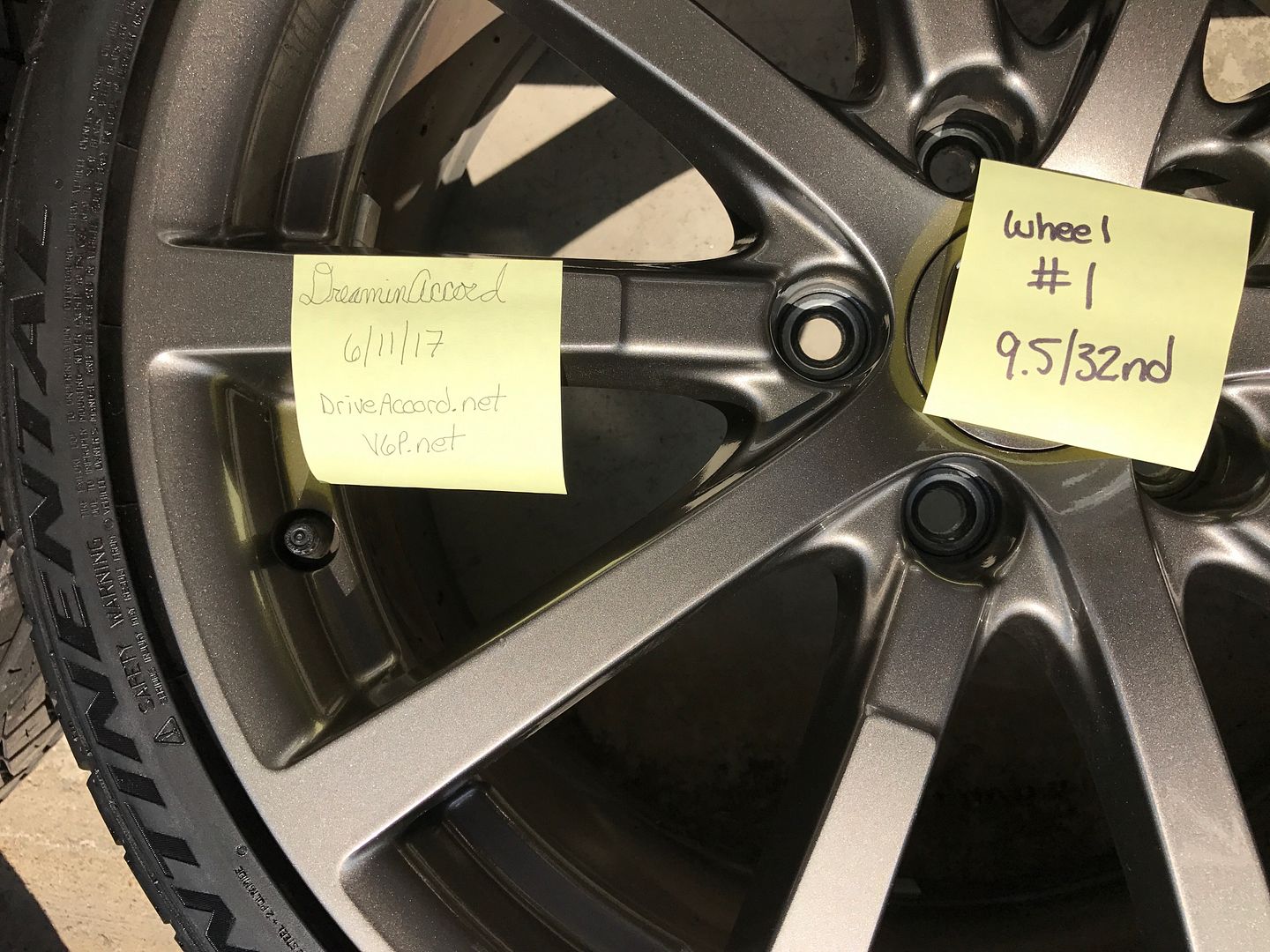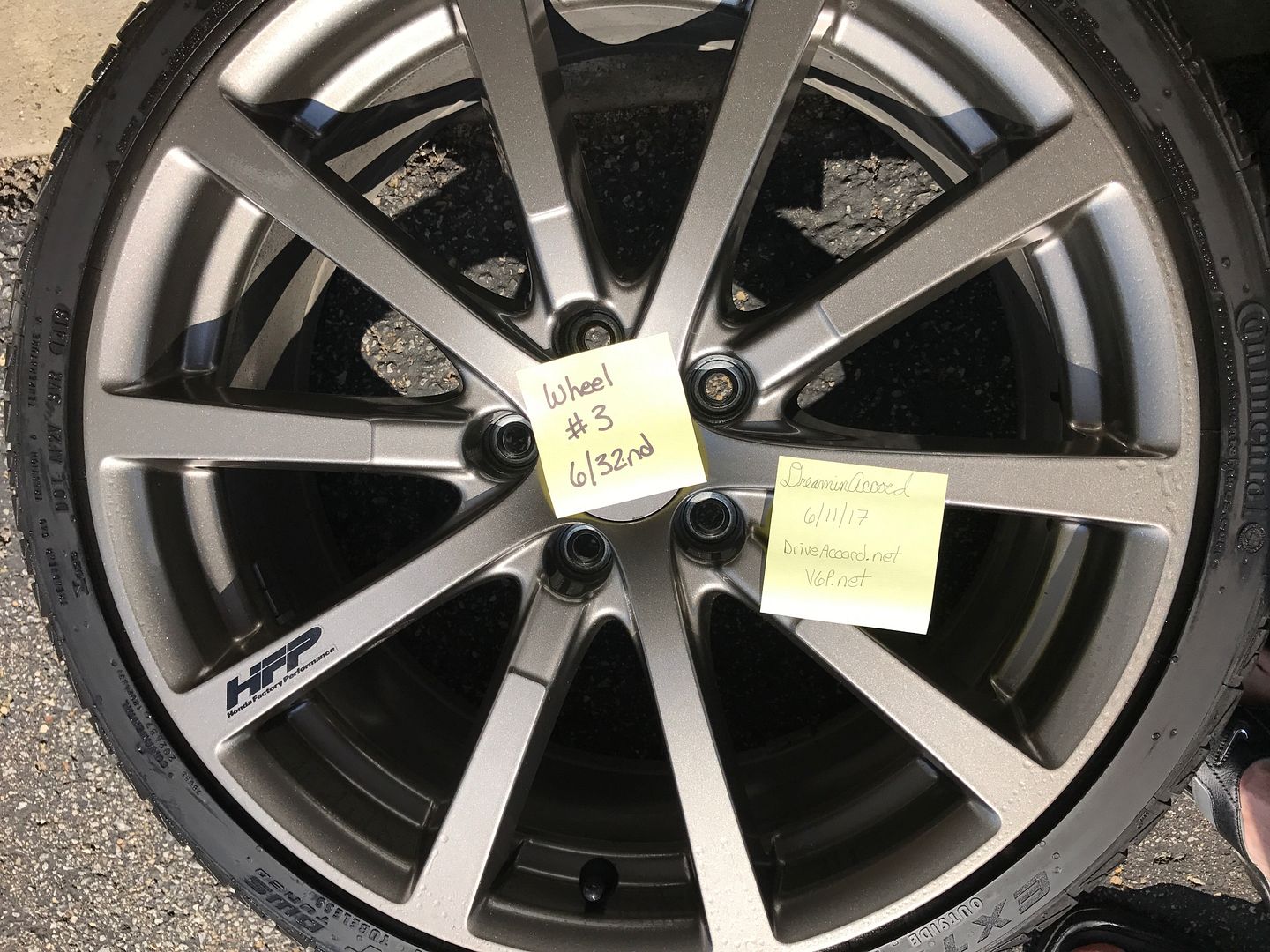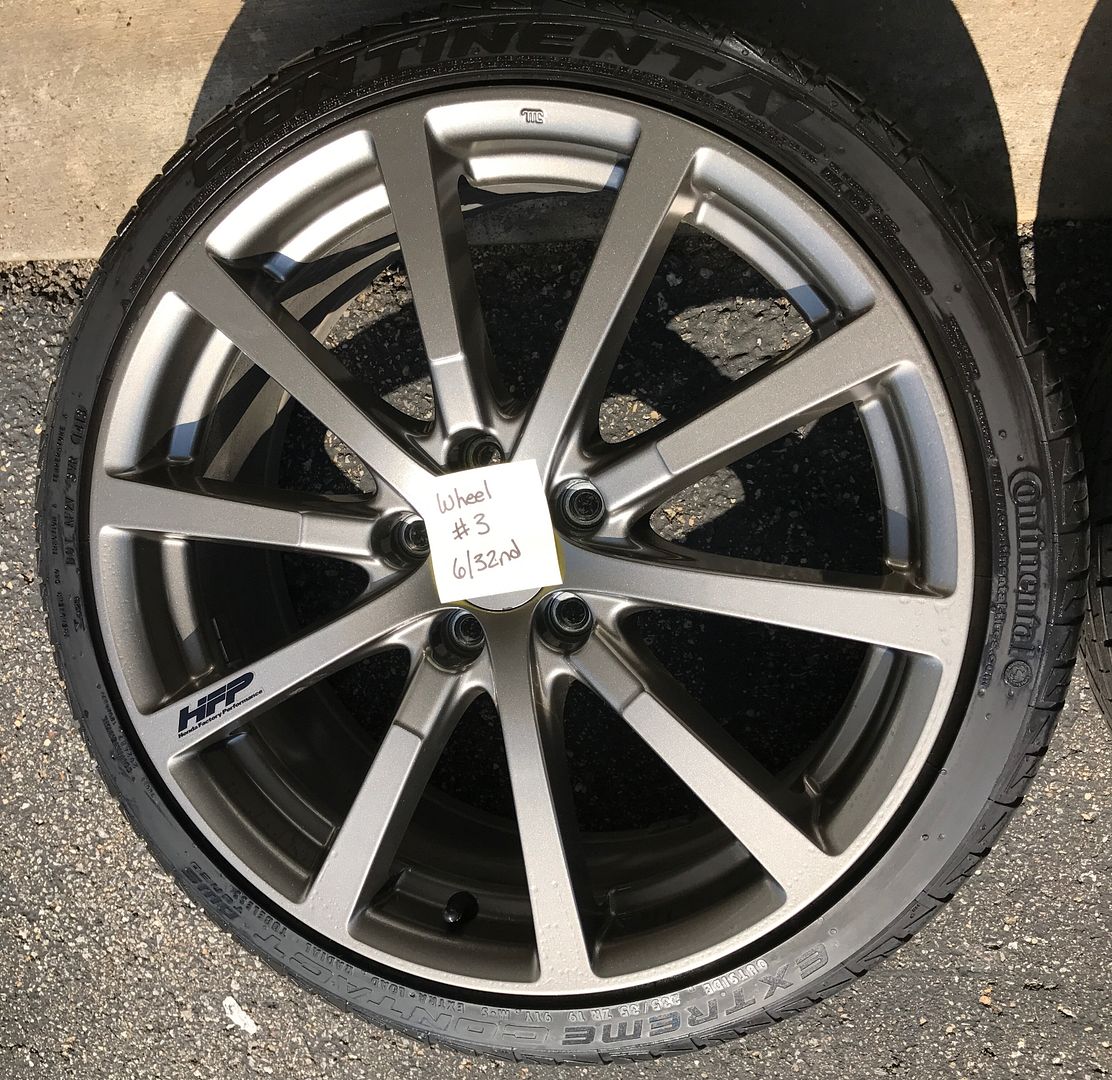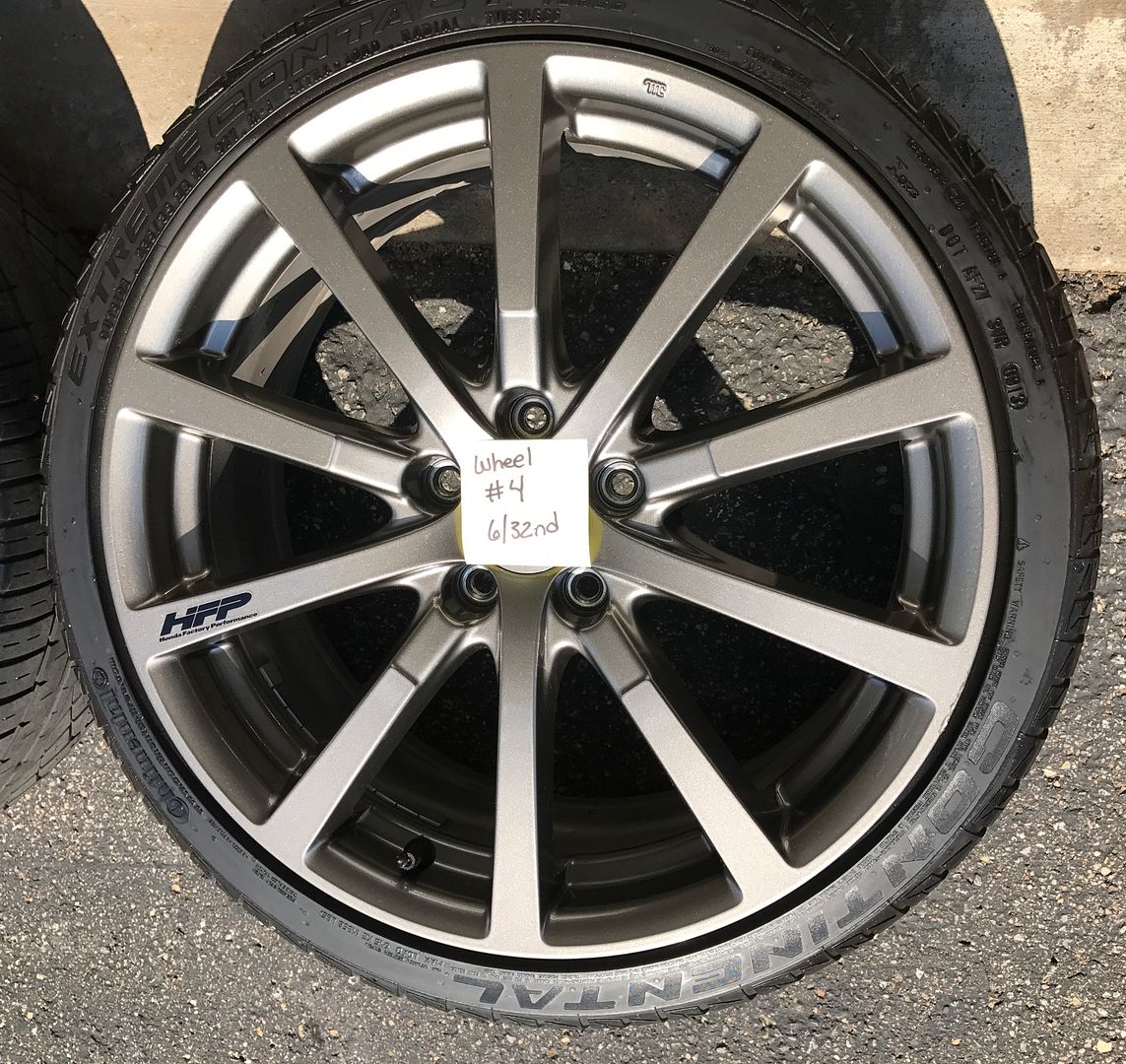 Tire #1 (9.5/32nd)
Tire #2 (7.5/32nd)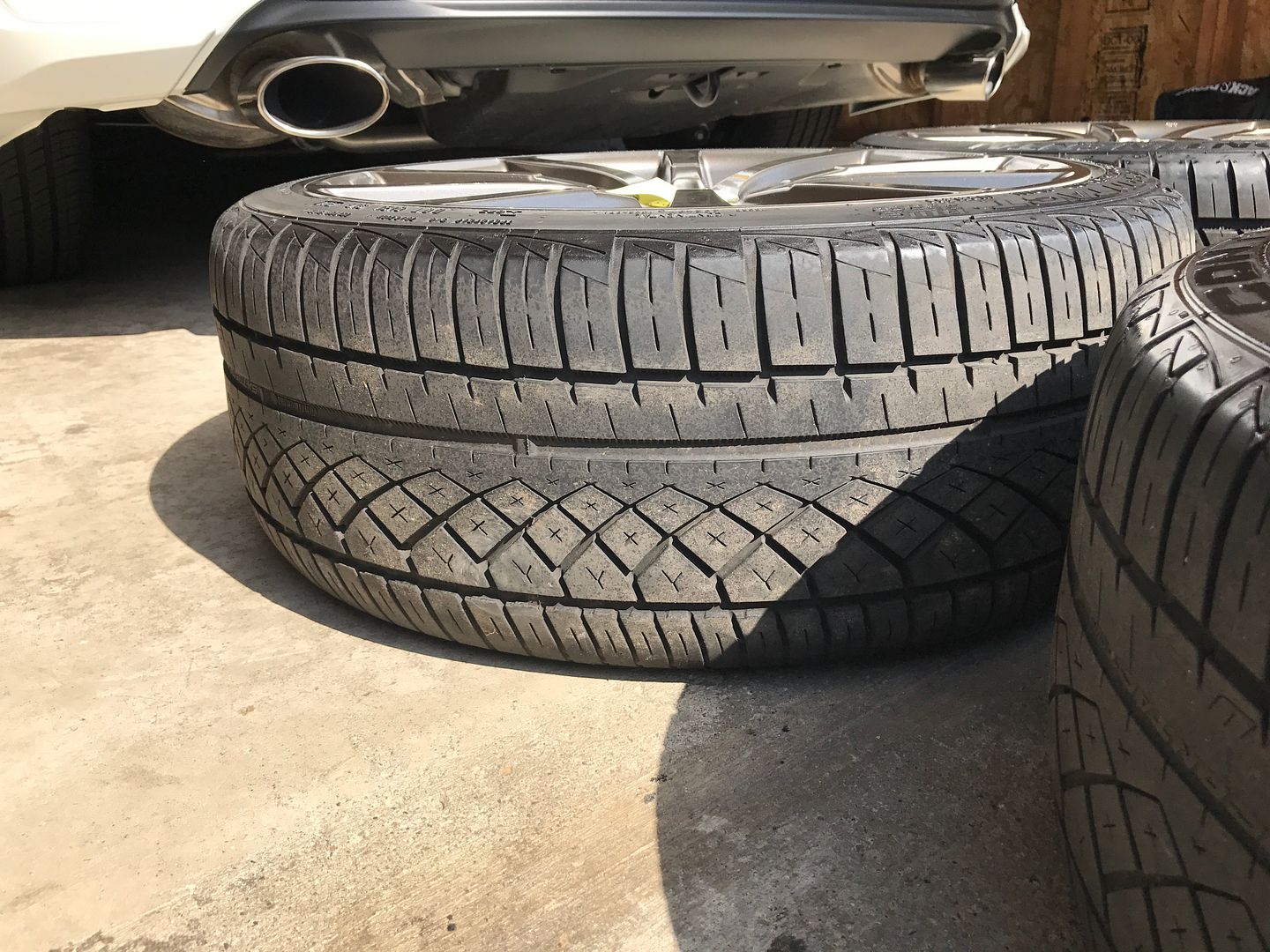 Tire #3 and #4 (6/32nd)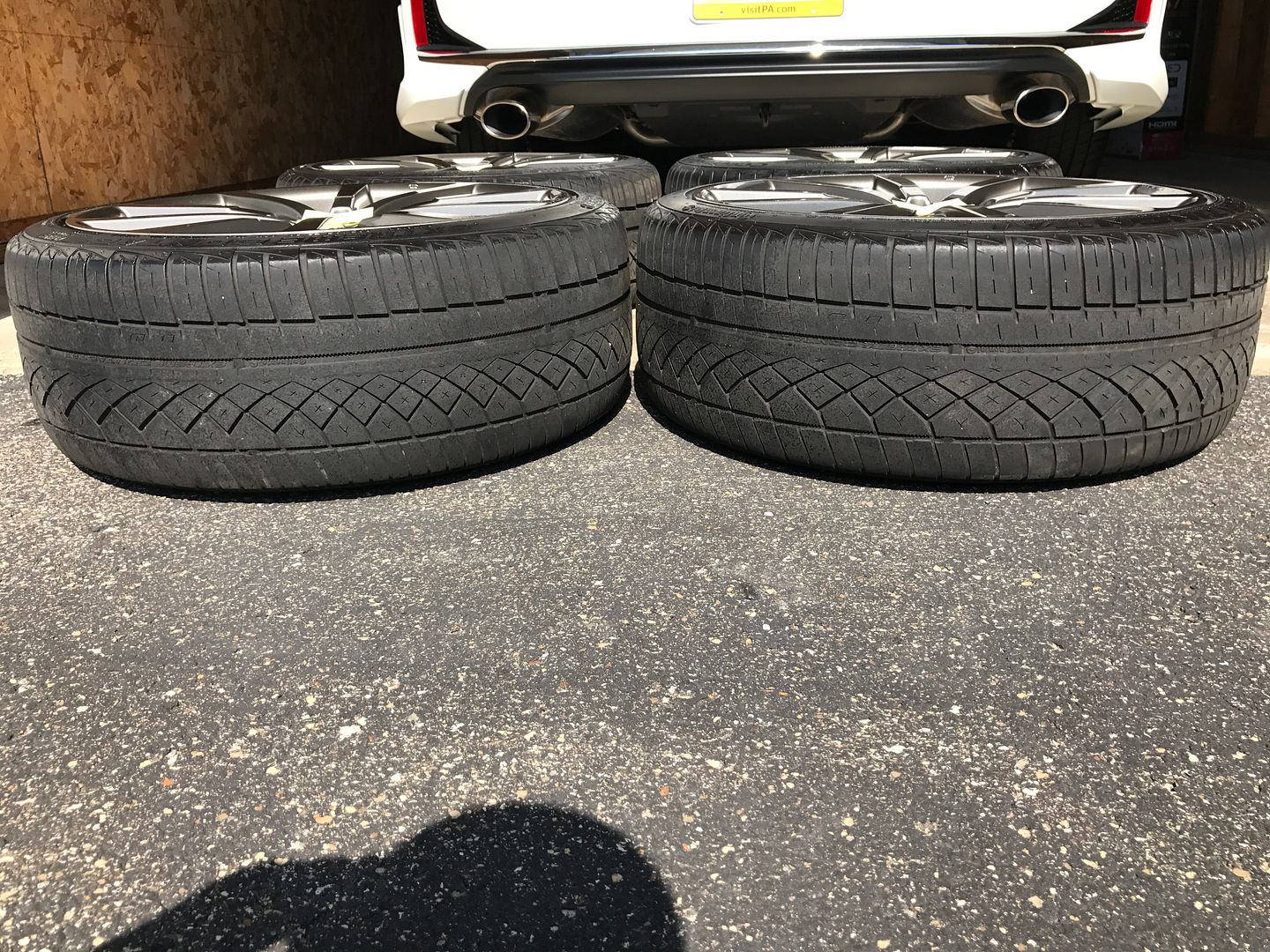 Example on a white car: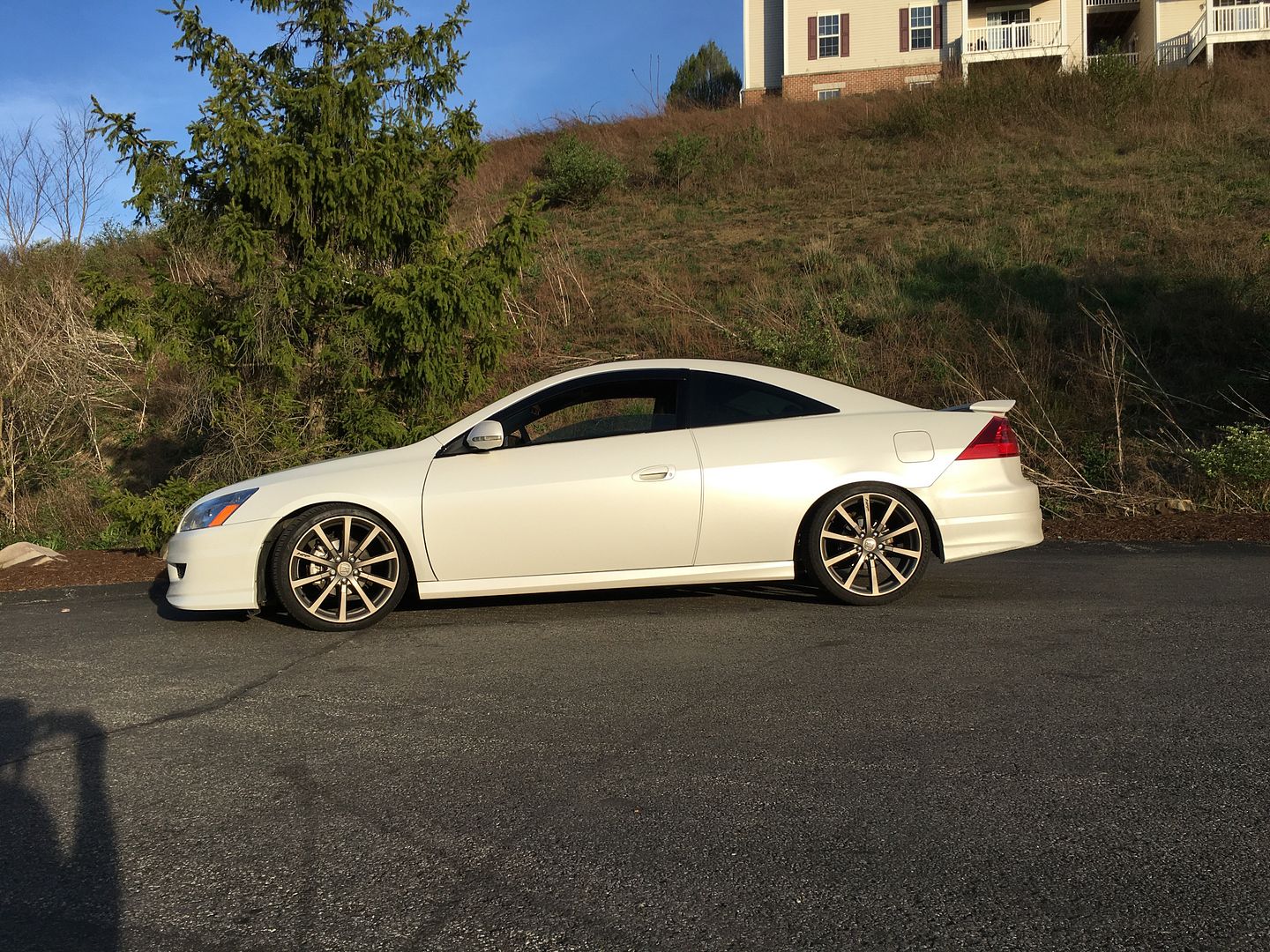 Example on a darker car: