I recieved a huge box of lightweight lugnuts from syclone and i decided to try selling them. These lug nuts are MUCH lighter than the stock honda ones and IMO they look better too. These last quite a while for i have them on my accord and I do tires changes at least twice a month and it has withstand my impact gun. Here are some pictures.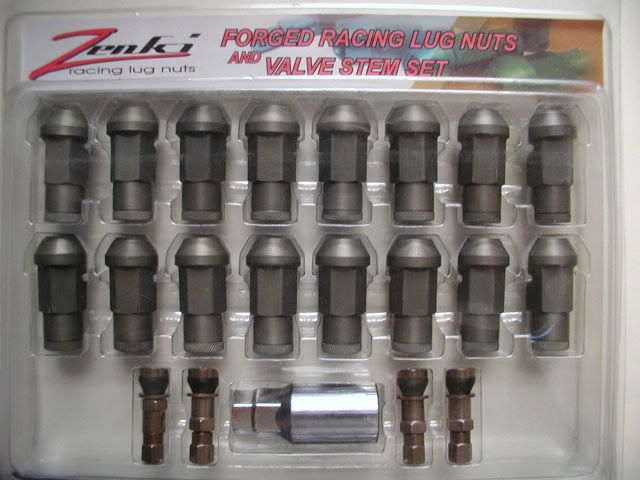 The first picture is the assorted colors I have available in 12x1.5 (most car's lug nut pitch). Starting from the left, the first one is silver. Second one is black. Third one is red. Fourth one is teal. And the fifth one is "gold" (looks more like light gunmetal to me). Also the picture shows that the lug nuts come in two sizes, long and short. No difference in how much each lug nut threads on the bolt, just depends on the look you want.
I am going to sell a set (16 lug nuts) for $30 shipped or a 20 lug nut set for $35 shipped within the 48 states. Pick up in pasadena area (socal) will be cheaper.
The lugnuts in the second picture is a complete special edition gunmetal set that i found on the bottom of the box. I will sell the special edition gunmetal kit for $35 shipped. That is not a key but it's just an adapter to help get the lugnut out easier. And it also includes 4 valve stems.
My inventory:
- Set of 20 lug nuts ($35 shipped)
~ Long Teal = 2 sets
~ Short silver = 1 set
~ Short red = 3 sets
~ Short teal = 3 sets
~ Short black = 2 sets
~ Long black = 1 set
- Set of 16 lug nuts ($30 shipped)
~ Long Teal = 7 sets
~ Short Silver = 6 sets
~ Long Black = 1 set
~ Short Teal = 6 sets
~ Short Black = 3 sets
~ Long Red = 2 sets
~ Special edition gunmetal (2nd pic) = 1 set
*I haven't sorted out the "gold" colors yet because it's mixed with the 12x1.25 pitch lug nuts and I have to do it manually. If anyone wants it I can sort it out...i'm just waiting to see if anyone wants them before I sort them out. I also have some 12x1.25 pitch lug nuts if anyone wants them on this board, just PM me for the colors that I have.*