I have a carbon fiber hood. fits the 7th gens of course. Its great looking, it was re cleared about 2 months prior to taking it off completely. It was on a coupe, but it may fit a sedan i am not positive.
I am looking not to ship it because it will basically take the value off of the hood because it costs so much.
I live in Christiansburg Va, 24073.
Please tell ur friends, other accord forums or whoever to help me get this sold. Ive had it laying around for a while. now tryin to move some old things.
Price :
100.00
Trades : Most likely none. sorry
STILL FOR SALE
The hood has a small fracture on the back side of the hood. There is pictures at the end of the page. You cannot see or tell without looking on the other side of the hood.. The indention is supposed to be there but the crack obviously is not.
Although i have not been on the forum that long you may look at my ebay name atallah24 and go though my feedback.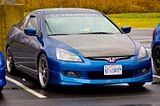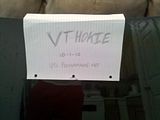 please PM me. leave it here! Thanks.