Discussion Starter
•
#1
•
As some of you may know I've built a nice sound system in my Accord with mostly Pioneer products. I started with a head unit and over the years have collected all sorts of Pioneer speakers, and car audio installation has become a side job for me now. I am particularly fond of the now discontinued "Premier" Line, even though the newer speakers are identical to the last made Premiers.
To make a long story short, our cars come from the factory with 2 6x9 speaker holes in the rear deck, making it an ideal place for a pair of heavy duty coaxials. I ran the same pair of Pioneer Premiers, which in their day cost 300 bucks, for the past 5 years, and a few months back, there was some sort of catastrophic coil failure on the right side and the speaker cone started separating from the spider... there was no saving this speaker.
So I've been rolling around with only one rear fill speaker (not that I could tell, each front door has 8 speakers in it). Today I was cleaning out my shelves and I came across 2 boxes of these guys: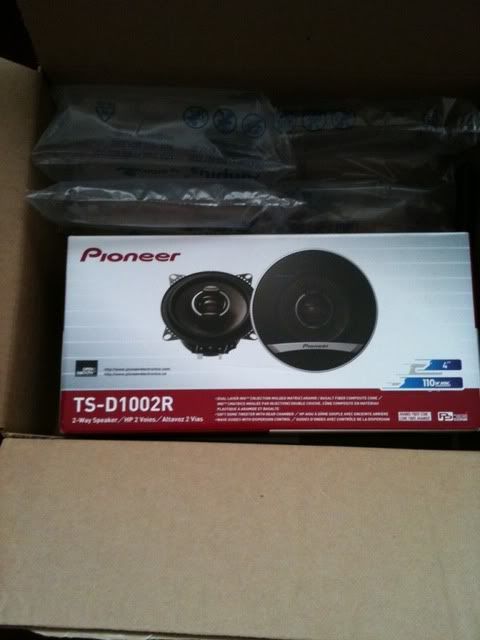 I used to run 4 inch mids in the A pillars, but they were just too damn big and obtrusive. But I noticed that they are 4ohm, so I could run them in parallel and produce a 2ohm load on my 4 channel amp... which is perfect, given that it operates just within their maximum RMS range at that impedance.
Anyway, I started by tracing the busted Premier by-nine on some cardboard. Then, I made two 4 inch circles in the template to see if the speakers would fit.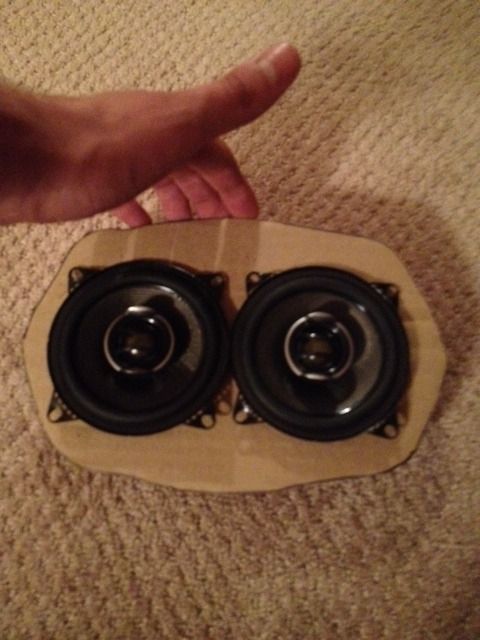 They do! Tomorrow I'll make wooden versions of the brackets with 1/4 inch plywood. Should be perfectly sturdy. After that its a simple matter of a few wires to make the pairs in parallel and then plugging them in.. I'll update as I progress.