Discussion Starter
•
#1
•
Cleaning out the stockpile and I found this old box... its a JL Audio Powerwedge for 2 10s
It originally came with 10w8s and was stuffed with that box filler junk. There is still some cotton residue in there. Anyway anyone who wants it can have it
Nice way to start the year, free box...
Also, it was made in 1999 but the carpet is still nice and there are no real big damage spots. It's hardwired and sealed already... back then they used like 16 gauge wire... You could easily change that. Screw style terminals.
Here's some pics. Its going to the curb on Wednesday morning, I put it up on alot of forums already and Craigslist free ads. Just wanna give V6P a shot too
Oh and its in Westchester County, New York. Easiest thing to do is text me 914-589-1815 and if you want it come get it or I'll bring it to you if you give me 5 bucks for gas
ardon: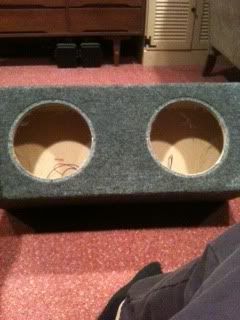 dont mind my feet. I was holding it up with them lol.