Discussion Starter
•
#1
•
Hey guys,
I got few stuff from my 7th gen accord coupe for sale.
ITEM #1
D2 coilovers - i want to be completely honest with these. I bought them from a member on the forum not even a year ago. Everything comes with the coilovers, 4 dampening knobs, two adjuster wrenches, and the coilovers. The front coilovers are in good condition. 1 of the rear has an issue of an adjuster hex being stuck. Price - $500
this tread shows what the usual problem with these type of coilovers. the bottom hex ring is stuck. it also tells you how to get it unstuck.
http://www.v6performance.net/forums/...d.php?t=193187
http://www.v6performance.net/forums/...d.php?t=177246
now these are the actual pictures of the coilovers i have.
updated pics of the rear: as you can see i got one of the hex rings that was stuck loose.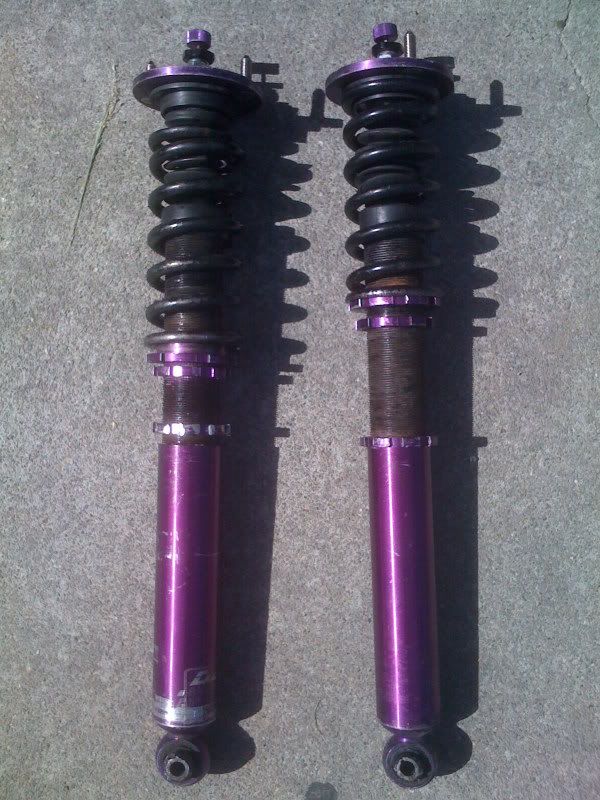 and these are pics of the car lowered on em...
http://www.v6performance.net/forums/...d.php?t=192356
ITEM #2
Wheels: 5 Zigen 5zr Copse (Quantity = 4)
Size: 19 x 7.5
Color: USED TO BE Hyper Black with polished lip, but NOW IS powder coated gold, with a base coat gold, and a transparent gold on top of that. All baked on, and has held up for 4 years already with no problems.
Offset: +48
Bolt Pattern: 5x114.3
The rims are in pretty good shape with no curbage on the lip. Only flaw is that the tire shop scratched 1 rim while dismounting a tire (stupid noob). Other than that there's a black tire scuff mark that can be buff out on 1 rim because some idiot was backing up in their big truck and their tire hit my car, specifically that 1 rim.
Price - $500 picked up for the set, local has priority. two rims have no tires, and two rims have like 40% bfg kdw2 tires on them 235-35-19. Rims are very dirty...I didn't clean them up. Any black grease marks etc can be washed off.
RIM 1 (Just the scuff marks)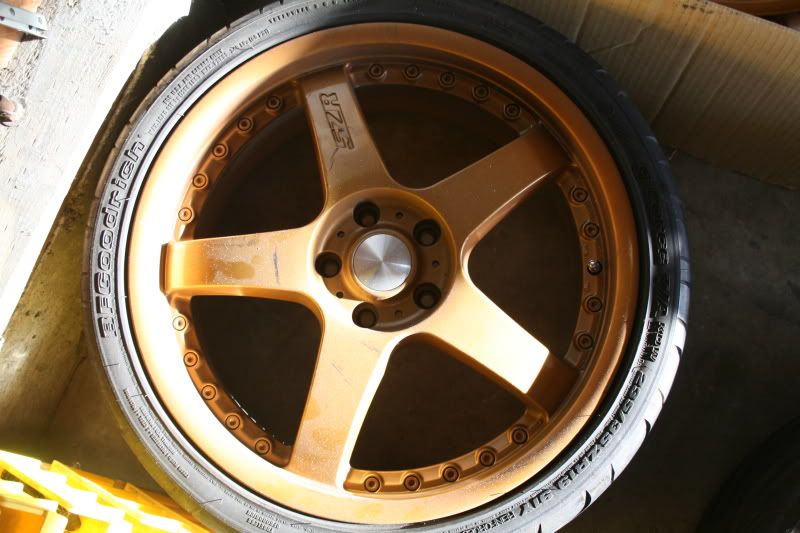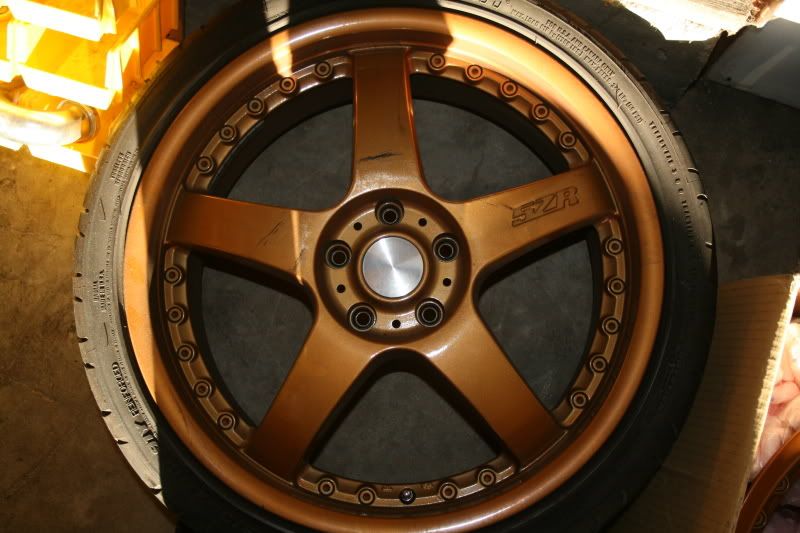 RIM 2 (Great Condition)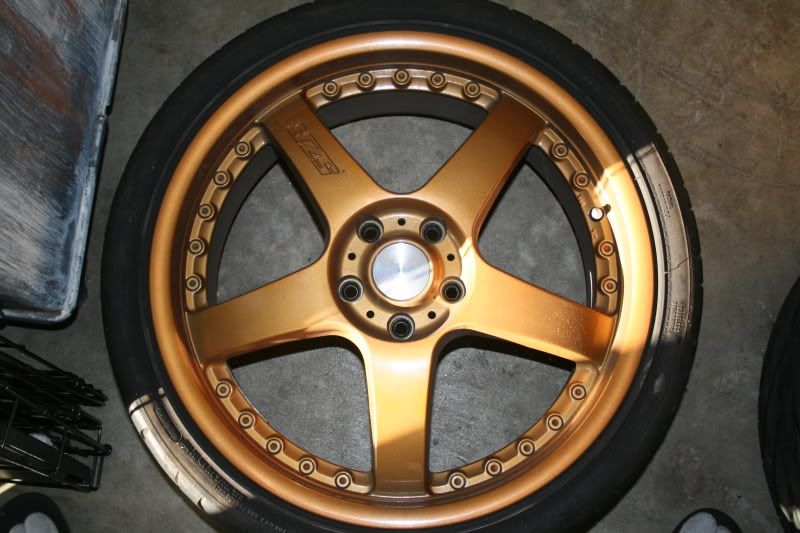 RIM 3 (Edges have little nicks from the dismounting of a tire)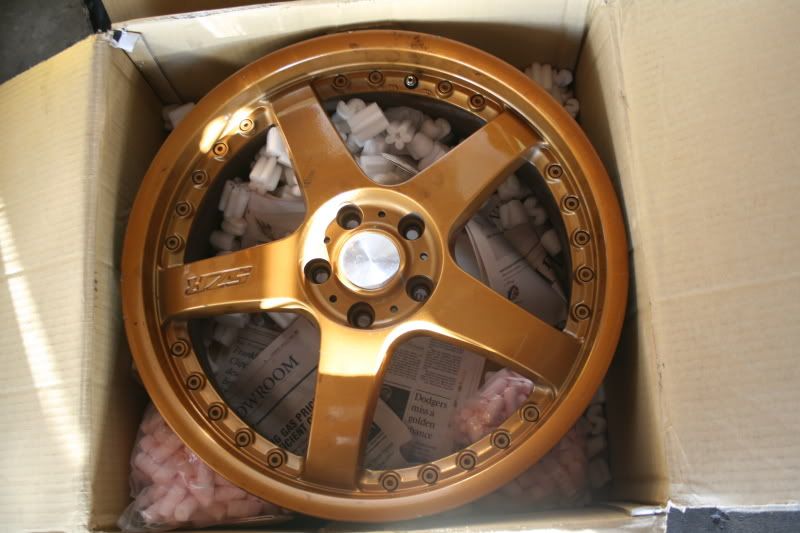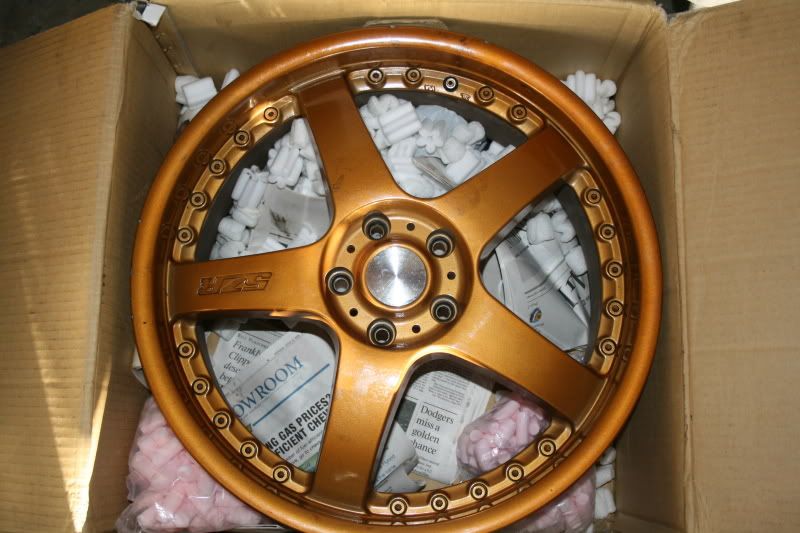 RIM 4 (Great Condition)
Pics on Car
ITEM #3
Wheel: Volk Racing te37 (Quantity = 1)
Size: 19 x 8.5
Color: Bronze
Offset: +43
Bolt Patter: 5x114.3
Price - $350 for that 1 rim. no center cap. no curbage, no damage, great condition. Forged wheel, very light. Retail on 1 of these rims is around 800-900 bucks, i would know because i just bought a set of gunmetal ones.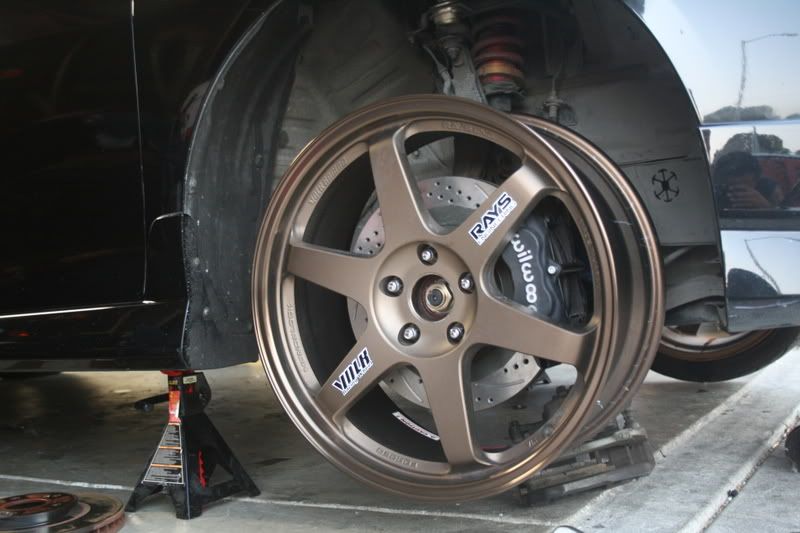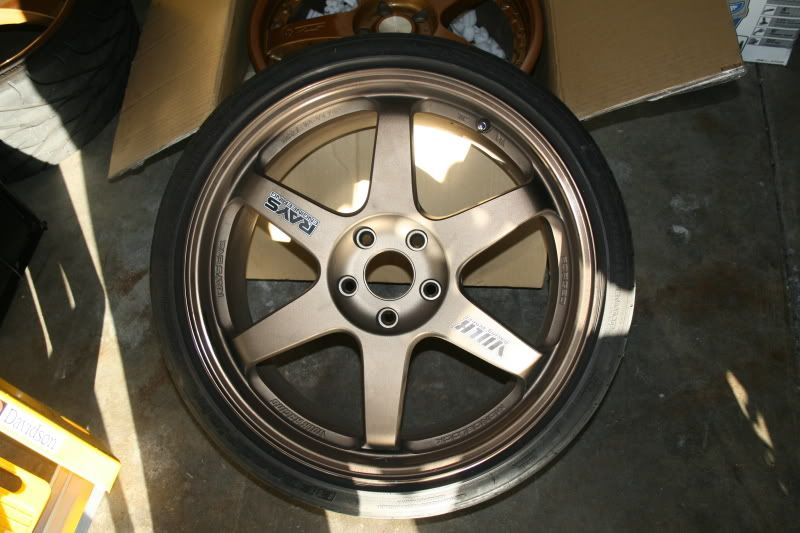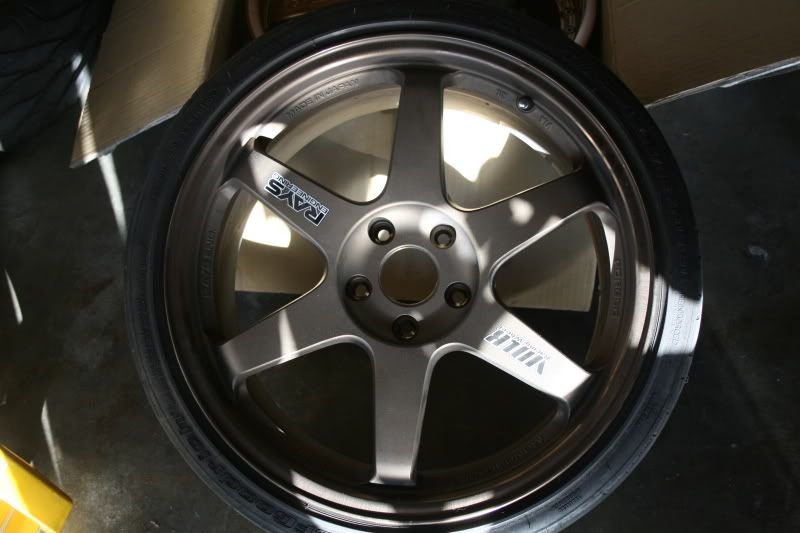 Pics on Car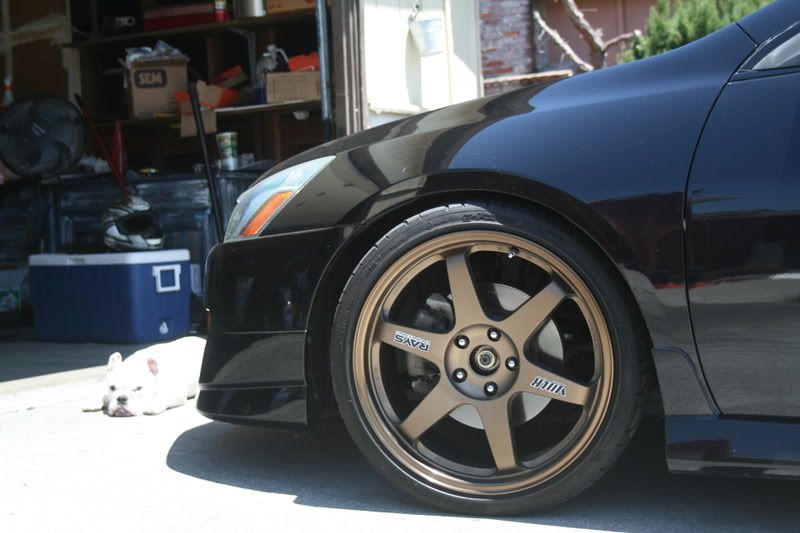 ITEM #4
VIS CF Trunk
Price - $250
anyways the trunk will probably need a good wax job, or if you know how to detail, just lightly wet sand and use some industrial polish to bring back the shine. or you can always get it recleared...
anyways here are the pics...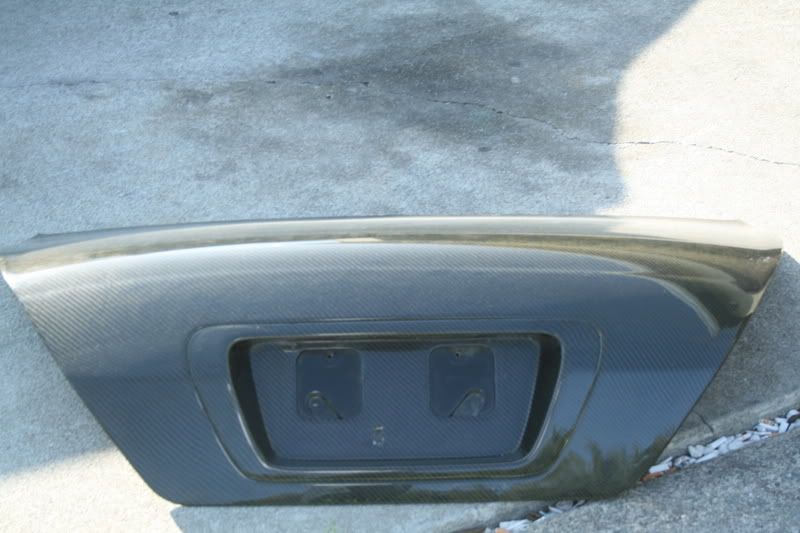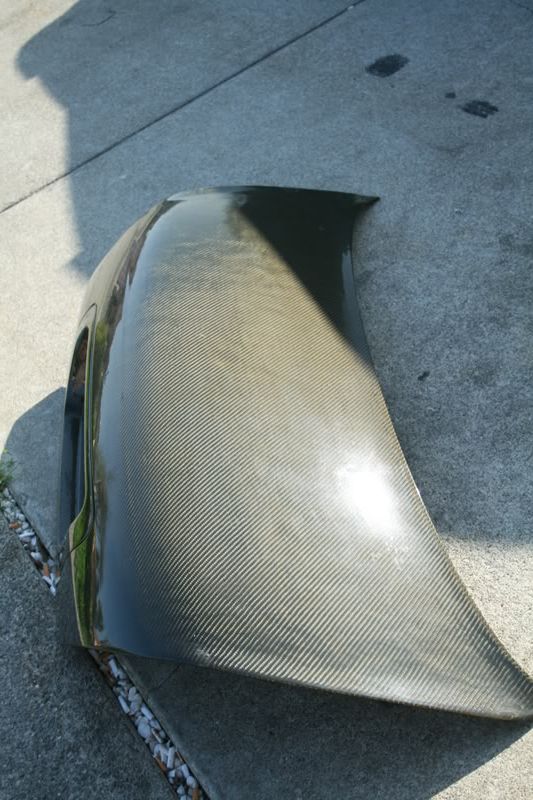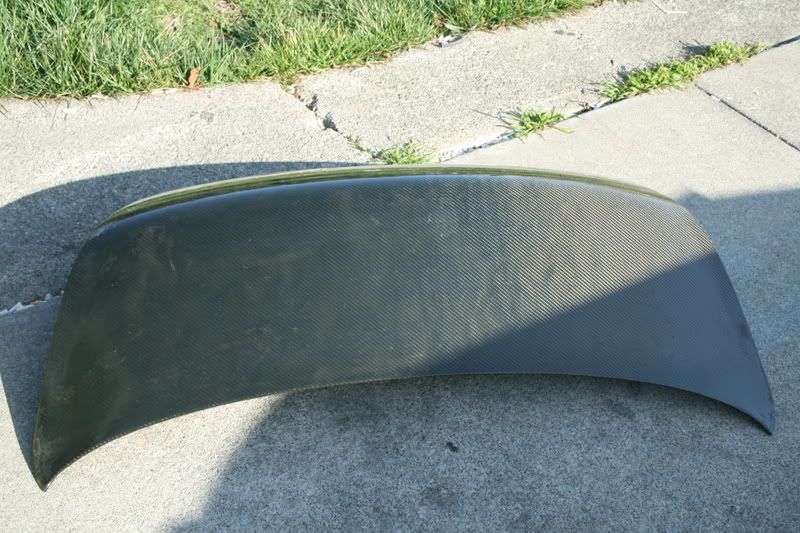 ITEM #5
7th gen stock oem springs
$30 bucks