Discussion Starter
•
#1
•
I had my car in the body shop recently (nothing but headaches there) and they left my car out in the rain with the hood off. They have made just about everything right but I am still having an issue with my marker lights.
I had the headlights replaced (I put my original high/low beam bulbs back in) and nothing else "electrical" was done. I noticed after I picked her up that the lights didn't flash when I would lock or unlock the door. I did a little research and nothing was relevant to my issue. Key fob has fresh batteries, the doors would still lock/unlock and all the sensor contact areas were clean plus the horn would still sound. It wasn't until I was in my driveway a few days later I realized what was going on.
My headlights both high and low beams work fine as do my brake lights and front and rear turn signals but my marker lights were out. I checked the bulbs and they are good then I checked the fuse box and sure enough, fuse #4 was blown so I replaced it. It blew as soon as I checked it by hitting the key fob. I did a visual inspection and cleaned the contact points in the fuse block, blew another one. This never happened before I went to the body shop and I know that my bulbs are all good as they are the same bulbs as before the issue started.
I dropped it off this morning at a garage recommended by the body shop. After a few hours and a few questions I got a call saying he can't figure it out. I am at a loss here. According to the wiring diagram provided by Haynes there is a bunch of spaghetti and shady eyes lol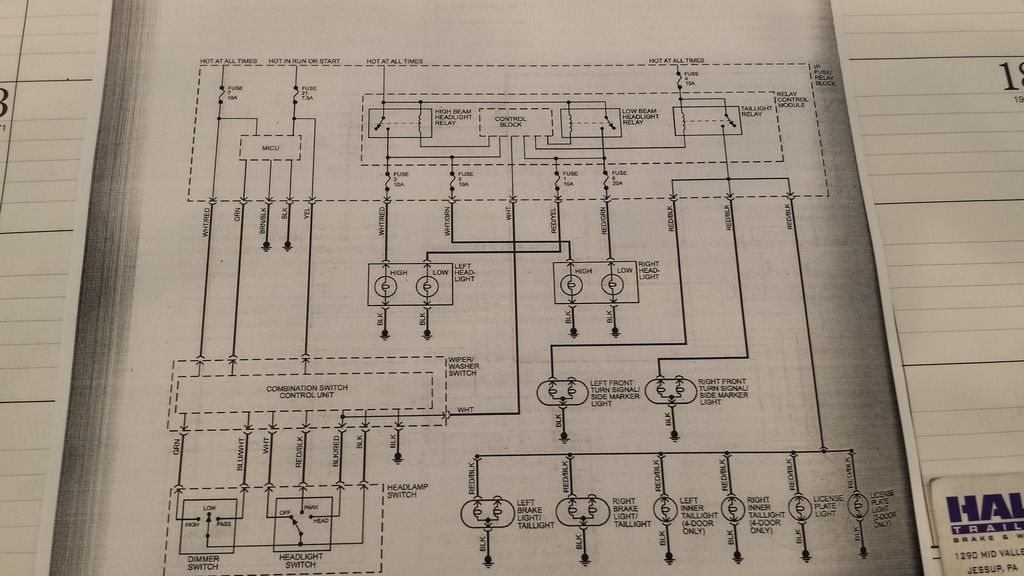 Seriously though, according to this diagram the markers and turns are all wired together. My turn signals all work but NONE of my markers work. Would a bad relay cause a fuse to blow? I thought they just wouldn't work at all but not blow a fuse? Any of you electrical wizards care to chime in? I'm sick of rolling like a dyslexic vampire!