I have a pair of OEM gen3 Ballasts I am trying to sell.
I owe someone some money on the forums because the aftermarket ones sucked ass and decided to take a **** on him. I will be home this weekend to take pics/ship.
If you dont know what a gen3 looks like here is a sample image: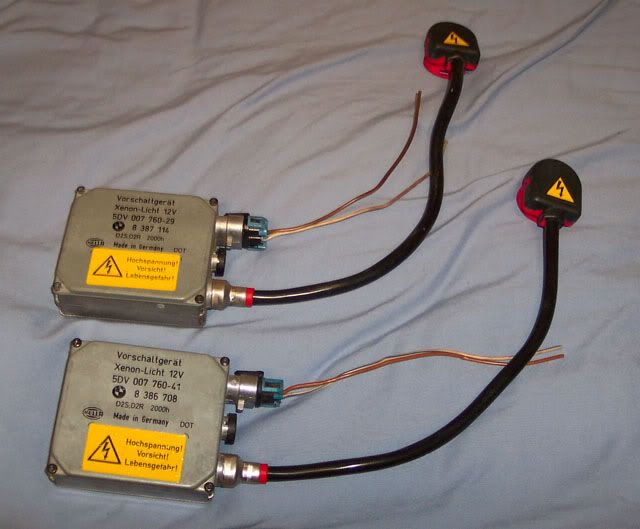 Give me offers, I would like 165 shipped plus paypal fees. I will include pigtails for your own harness and a relay too.
I will have a s2000 retrofit for a 7th gen accord probably in 2 weeks for sale. Maybe less. If interested in the retro I can send you pics via pm. PICS WILL BE POSTED ASAP.
The price for it will be 600. No bulbs/ballasts.
Just about perfectly aimed. Might need to be raised (can be lowered raised)
It has a few things needing to be done on it.
Might take lens off and clear it, some fog from the paint. The shrouds might need to be repainted one has bubbling.
The plastic front lens is scratched slightly but nothing really bad if you are just wanting pure performance.
I also had a vinyl clear sheet 3m like, that started peeling off, might use some type of detergent to remove it.
I wont go any lower than 600 paypal fees and shipping included.
150 for oem e46, 300 for s2000 projectors, 110 for headlights
labor was 250 so you making out like a bandit if you have a little patience.
The main reason its not for sell yet, as I am working on a quad retrofit and wont have a pair of lights to drive with at night.
If you want bulbs, ballasts, harness, and headlights I will do 820 shipped. The bulbs are relatively new. Will throw in new front lenses for you to put if needed, they have a scratch here and there but relatively awesome!!!