Holy Crap! The_Tofu_Shop Sells Stuff for cheap!
As a struggling college student, I have things lying around my garage which need to go. Since I am broke, you can make me NOT broke by buying my stuff. I used to own a 6th Gen Silver Coupe. It looked pretty, then I sold it. Now, I drive a 2007 Acura TSX, and I want to get rid of those dumb acura badges and convert it to a Honda Accord Euro R. Well, at least cosmetically. In order to do that, I need YOUR MONEY! So Spend it here! Where the deals are good!
Prices are in Green and include Shipping.

Free Shipping! Items also available for Pickup TBA (which I would prefer, in face transactions usually work better, plus, who wants to deal with shipping...not me!)
Note: "OBO" does not mean you can offer me at 50% of what I list. Idiot lowballers will be ignored.
:up2:
HEADERS ARE SOLD to Jason X. Sorry Guys.
5. Outlaw Engineering Thermoblok Intake Manifold and Throttle Body Insulator Gaskets $75 OBO
Bought these a while ago, never got around to the install. Heard good things, lower engine temperatures, but cant tell you from experience, like i said, they never made it onto my car. Brand Spanking New. Includes Spacers, Hardware needed for install, Instructions and 2 brand new Outlaw Engineering Decals! These are $105 from Outlaw and you can get them at more than 25% off! What a Deal!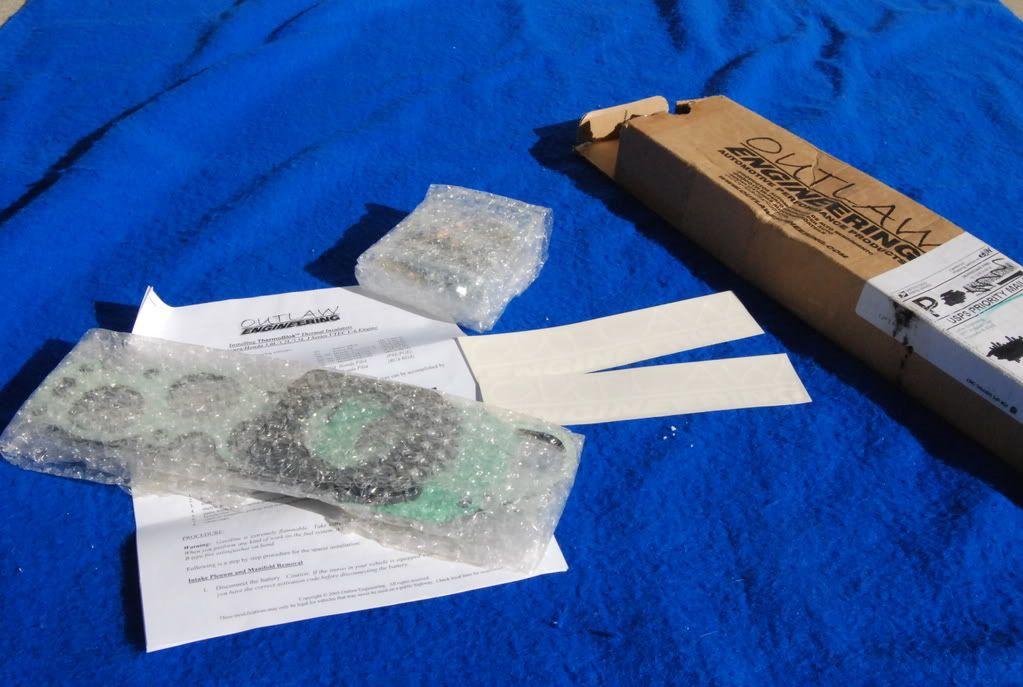 Interest: Aznfunkyflip
7. 2000 Honda Accord EX V6 Stock Intake Assembly $30? OBO
Everything is here, stock intake assembly, with filter and all that good stuff. Make me an offer I guess.
10. Alpine 12" Type R Subwoofers (x2) and Alpine MRV-1000(i think, I'll double check part numbers later) in a generic Al & Ed's Sealed Box. $200 OBO
These are my 2 subs I had sitting in the trunk. The sealed box doesnt put out as much THUMP as a ported box would, but these generate clean, smooth bass. Only one problem though... The subs on the front, are a little beat up. No functional damage, strictly cosmetic... The Amp works perfectly and It will include the wiring from the Amp to the subs. Nothing more.
Guess thats it. More stuff coming if i find it...
To contact me, the best way is to Email, as I dont visit this forum as much as I used to, I will try to keep an eye out for this thread. But like I said, the best way is to email me:
[email protected]
If for some reason you dont trust email, you can IM me @ TheTofuShop on AIM.