Discussion Starter
•
#1
•
This is a V6P Groupbuy for the Ingalls ETD for the 03-07 Accord 4Cyl and 6 Cyl (different part #'s). This is an actual GB so please list your name only if you're interested in purchasing and your vehicle info:
TSX ETD for reference (similar to Accord)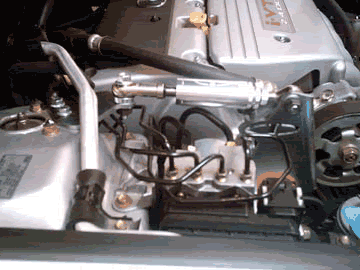 A self-contained elastomeric shock that mounts on brackets between the engine and the chassis. It reduces extreme engine movement and dampens the motion, providing many benefits:
- Greatly improved off-the-line acceleration
- Reduced wheel hop
- Improved vehicle stability
- Reduced shock loads on driveline components
- Smoother shifting
- Reduced wear on exhaust system joints
- Less vibration transmission to the driver compared to polyurethane motor mounts.
- Less shock load, compared to torque straps and chains.
- Drifting – helps reduce shock loads when wheels gain traction.
- Reduces motor movement – decreases the chance of motor parts rubbing against the hood and frame.
Shipping times will depend upon your location. Prices based on shipping to 48 continental states in the U.S. It will likely take a couple weeks to ship the parts once all the orders have been placed.
The following payment terms are accepted: Paypal
You may send payment to
[email protected]
via Paypal.
Please specify what you're ordering and for what car in the payment.
Applications are taken straight from
www.ingallseng.com
. The prices will run as follows:
Ingalls Engine Torque Damper GB Price:
5 People - $145 shipped
10 People - $140 shipped
15 People - $135 shipped
20 People - $130 shipped
AIM Screen Name: Excelerate04
E-mail:
[email protected]
or PM me.
RETURN POLICY
- ALL RETURNED AND/OR CANCELLED ORDERS ARE SUBJECT TO A 25% RE-STOCKING FEE PLUS ALL SHIPPING CHARGES (Includes original and return S&H fees).
- ALL AUTHORIZED RETURN MERCHANDISE MUST BE NEW, UNUSED, AND IN ITS ORIGINAL PACKAGING. ALL DOCUMENTATION, WARRANTY CARDS, INSTRUCTIONS, AND HARDWARE MUST ALSO BE RETURNED.
- ITEMS MAY BE RETURNED WITHIN 15 CALENDAR DAYS FROM THE RECEIPT OF MERCHANDISE.
- SPECIAL ORDERS ARE NOT RETURNABLE.
EXCELERATE LLC
998 West Main St
Branford, CT 06405
(P) 203-483-6100 (F) 203-483-6101
www.ExceleratePerformance.com
Joshua Lockwood
Owner