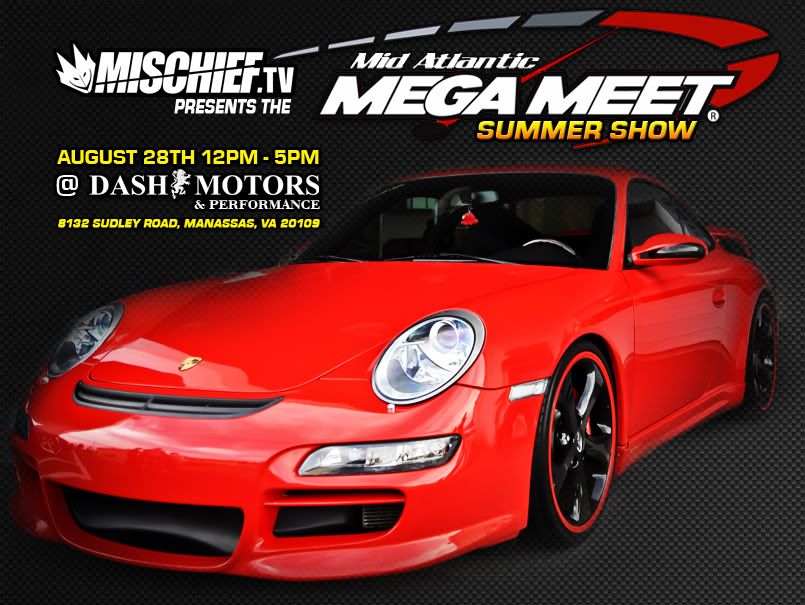 It has been a hot and humid summer but we are wishing that mother nature will give us a break in hopes that all the car enthusiasts of the Mid Atlantic region will come out from their hiding. Pull off those car covers, turn the key to hear the sound of that beast that you have been building for the past couple of months, and head on over to the Mid Atlantic MEGA MEET Summer Show at Dash Motors & Performance (8132 Sudley Road, Manassas, Virginia 20109) on Sunday, August 28th from 12-5 pm. There will be live DJ performances by LJ MTX and DJ Jon Deke, media coverage by Mischief.tv, and food vendors. Admission is free so bring the entire family but we ask that only modified cars park on the dealership property (space is limited). There is plenty of parking at the surrounding businesses and we recommend showing up early in order to get a good parking spot.
Make sure you mark this on your calendar and don't forget the Mid Atlantic MEGA MEET slogan:
"Cars, Trucks, Bikes, People, All Colors, All Styles...You bring the fun!"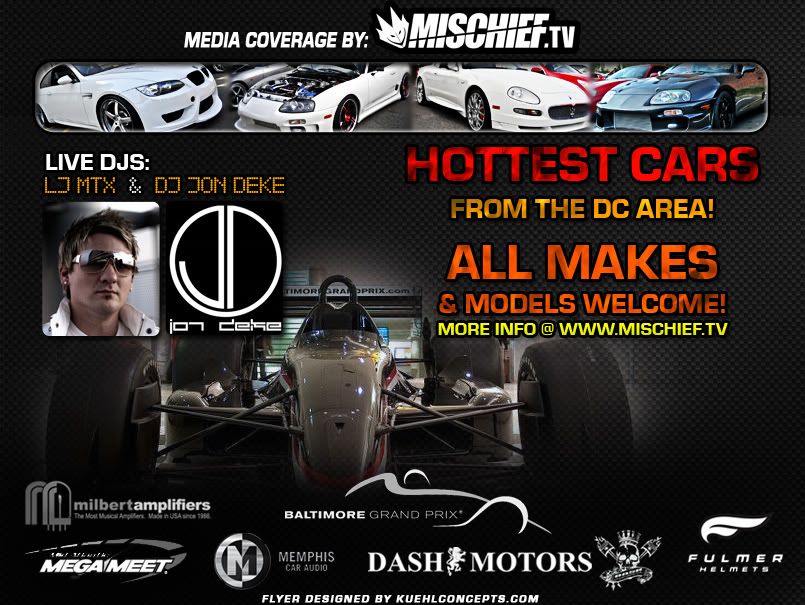 Also, a huge thanks for the continued support from our sponsors: Milbert Amplifiers, Memphis Car Audio, and Fulmer Helmets.
Video of our August 2010 event:
http://www.youtube.com/watch?v=UiuDcSUjK4o
Video of our October 2010 event:
http://www.youtube.com/watch?v=XnsWtj8B-no
If you have any questions, please visit
www.Mischief.tv
or send an email to:
Dustin Worles, Mischief.tv -
[email protected]
Dash Dashtaray, Dash Motors -
[email protected]
Ryan Leffas, Mid Atlantic MEGA MEET -
[email protected]
For directions, please visit
www.megameet.org
.
-Ryan