Discussion Starter
•
#1
•
I've been hunting for a good decklid spoiler to mod to fit my trunk for over a year now since i want something bolder than the traditional m3/m5 lips. my first 2 attempts at this project failed as you may or may not remember. first attempt was with a Spoon TSX spoiler which was about .5 inch too short and the front to back curvature was off quite a bit so i sold it to a friend at a $30 loss. then my 2nd attempt was with an 8th gen civic sedan decklid spoiler. length was way short, the angles on the ends needed a little correcting and the front to back curvature was way off so i tried selling it and i couldnt so i ended up hacking the hell out of it and extending it but that turned into a nightmare project because it require so much work so i trashed it after spending $80 on the spoiler (or more, cant remember) and many hours hacking it.
gave up for a while until i saw the RSX decklid spoiler but i didnt want to jump into it almost blind like i did the first 2 times since money is tight now-a-days. i lucked out when Kevin (Doctor X) had a friend who had an RSX spoiler laying around waiting to be installed on an RSX so he took some test fit pics and the length is about .5inch too long but the front to back curvature was as close as it was ever going to be from an unmodified spoiler not made for our cars. so after seeing his pics he sent me, i bit the bullet for a 3rd time, another $80. and i got the spoiler a few days ago and unfortunatley the spoiler i bought wasnt quite as perfect fitting as the one in the pic he sent me so i tried returning it but cant but luckily i think this is my best bet. i guess the sellers on ebay have slight variations. mine is curved a little too much front to back.
This spoiler is SOLID abs plastic so that means i can cut and grind away as much material as i want and not have to worry about hitting a hollow area. so i started tackling the project today...
before...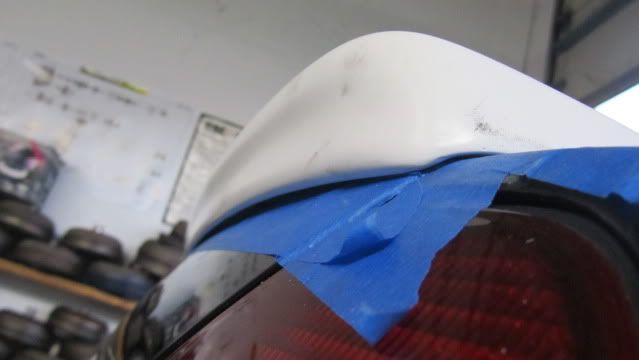 after... (almost there)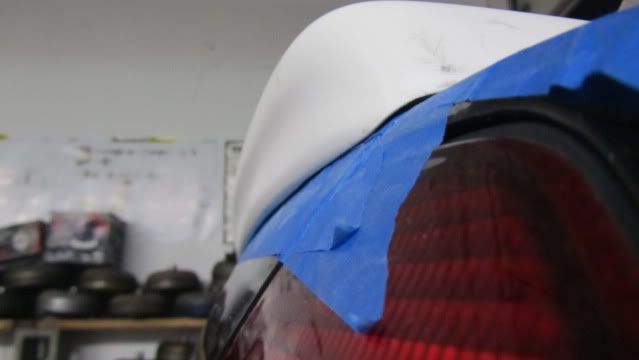 before...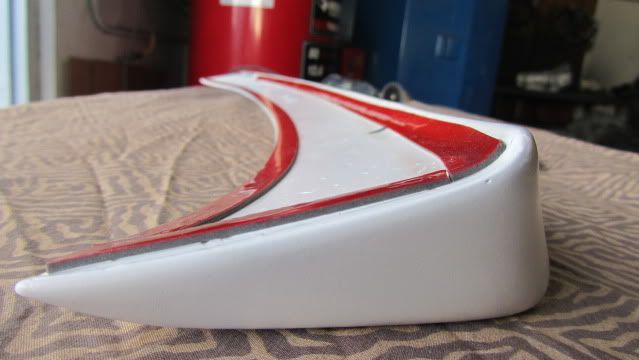 after... (rough shape)
before...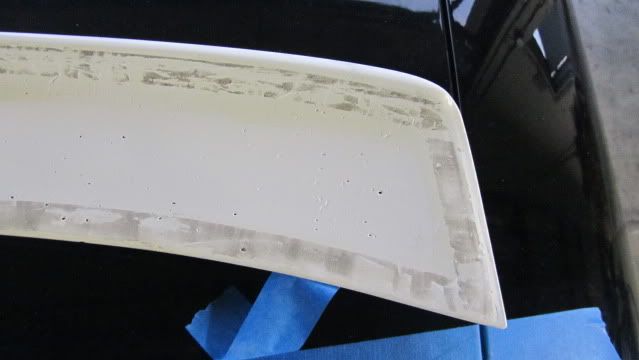 after... (rough shape)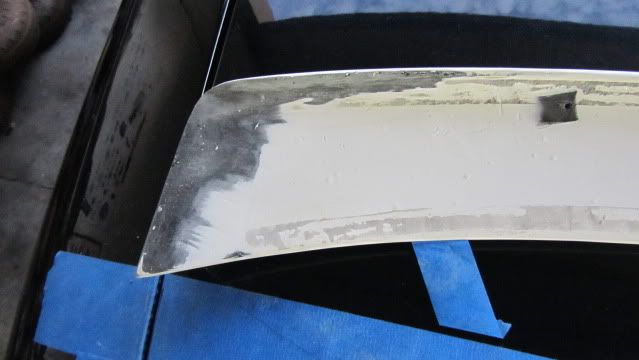 length before...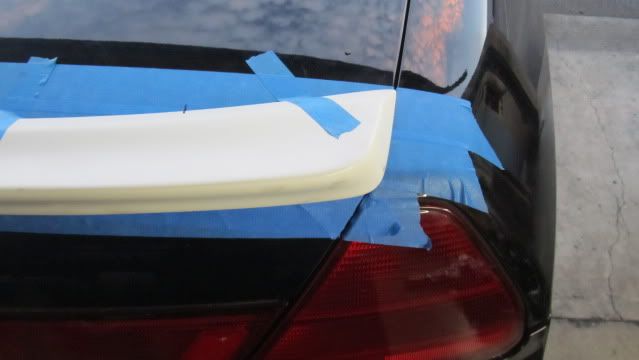 length after... (rough shape)
side view... (rough fit) might need to refill areas where i removed too much, we'll see later.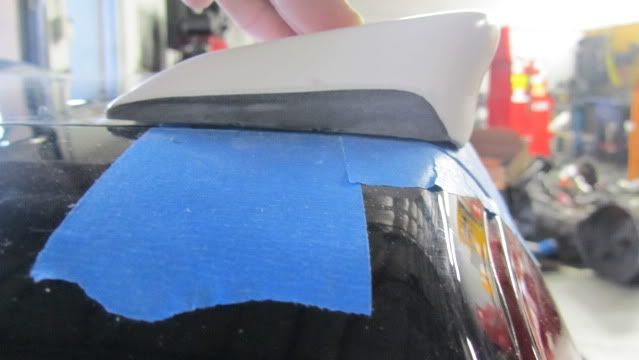 slight gap from a little lifting near the end, will try my best to fix that. easy way out would be just to let the tape hold it down but i want to minimize the gap as much as i can to reduce pulling on the tape.
the really hard part... i may reshape the entire corner of the spoiler to flow with the body line/roof spoiler but its going to require me to remove a LOT of material and i dont know what all that cutting will do to the look of the top of the spoiler... still iffy on if im gonna attempt this part of the modding or not.
estimate of the how the new shape could be if i do it... yellow line is the body line to the left of the tail light, blue line is the curve of the roof spoiler.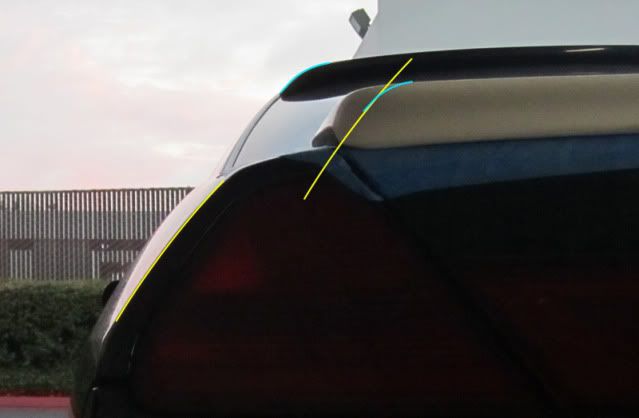 almost there, minor adjustments and it'll be good to go..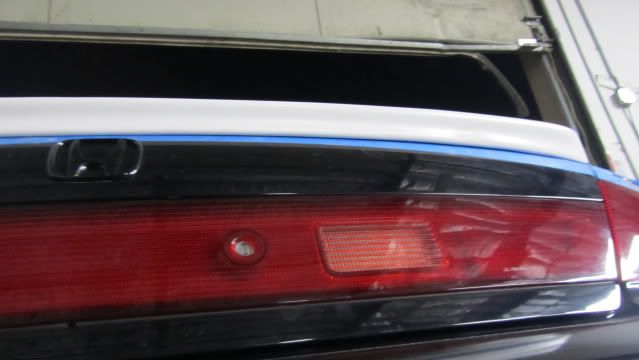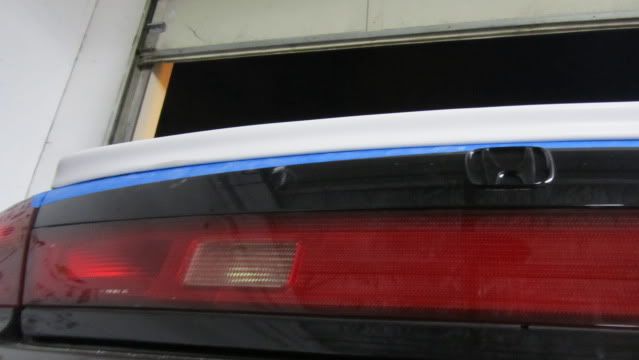 further back...
from the other side...
im trying to get this project done by next weekend in time for Acurafest but i think i may be pushing my luck with that seeing how much more work would be required if i attempted the reshaping on the ends. not to mention paint. and if you look at a side profile shot, see how theres a slight dip in the middle the entire length of the back of the spoiler, i may fill that in and make it straight. afterall, the 6gen coupe is pretty edgy in the back.