Prices do not include shipping and are OBO for anything over $30. Can provide more pics/info upon request.
6th gen accord OEM rear view mirror (nice condition, no damage) ($20)
Brand New OEM Genuine Honda Center caps (4) ($30)
Unfortunately these will not fit 6th gen stock wheels or anything that interchanges centercaps with those, such as 3g TL 5 spokes. However These are interchangeable with 8th gen civic centercaps.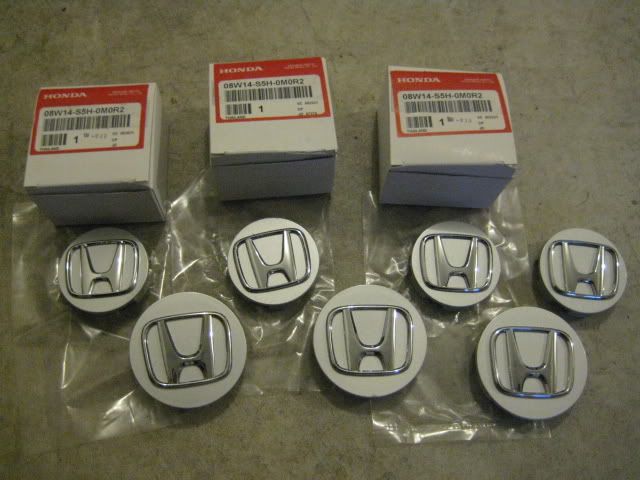 High quality 6x9 speaker grilles ($10 per pair)
Also have the following things:
-Stock 01 coupe ac/heat/fan control knobs ($10)
-Stock Rear tan seatbelts assemblies (fits 98-02 coupes) (make offer)
-OEM BNIB HID bulb for a 01-03 CL/TL (may fit other models) ($60)
-OEM scion black shift knob with chrome bottom trim(found in scions, corolla, and camry) and will fit any honda/acura gated shifter (Prelude, 01-03 CL/TL, etc) ($10)
-MSI 8800 GT graphics card ($60). It has an upgraded cooler with heatpipes and runs completely silently.
-05 Lexus RX330 left side mirror, base is damaged but main housing and the glass/wiring is still good (make offer). OEM Green metallic paint, these assemblies cost $500+ when new.
(SOLD LIST)
MB Quartz 6x9's (SOLD)
6th gen coupe 98-02 rear black leather seats, (SOLD)
6th gen coupe 98-02 interior leather trim set w/ handles, armrests (SOLD)
6th gen coupe 98-02 rear speaker deck panel including speaker covers (SOLD)
Thanks for looking!