The myth of the 2007 Toyota Supra…(UPDATED!!!)
The myth of the 2007 Toyota Supra…​
Spirit of the Supra​
This is a bit of a repeat from a previous post but I just want to lay out all the information that I've compiled. I might have found something that was over looked.
I'm a bit of a fan of the Toyota Supra and always have been. My dream car is a Imported ,1999, Manual, Black/White or Candy Apple Red, Twin Turbo Supra, with Targa Top, Invader Style Front – Rear and Side, Techno R 3000GT Style Hood, V-Man Spoiler and a redone interior with custom gauges. Well, actually my dream car is a Ferrari Enzo but that's not even a possibility in my life time. Just a 93-97 Supra itself is a future plan that I want to become my project car.
I've been watching Supra's sell online for the past year now as I've been wanting to get an idea for what they go for. Aside from the scams, I've noticed that the Supra is generally over priced and it's hard to find a Non-Modified, Low-Mileage, Manual Supra. But the plan remains to one day live my dream. Well, that was until about 1A.M. this morning when I ran across some hype about a 2007 Supra.
So the quest for the Holy 2007 Supra began…
Ford GT90 as a Supra
ADDED
Rumors of a Toyota Supra Concept being developed first appeared at popularmechanics.com about a year ago. The article came with spy photos of a Volta and it was speculated that the Volta would be the Supra replacement.
Volta Spy Photo
Multiple articles denouced the new Volta as the Supra replacement. If a Supra would be designed it was said to not look anything like the Volta.
END OF EDIT
I've been aware of the rumors that Toyota might bring back the Supra but I've always regarded them as false rumors. Then I came across some pictures of a possible Supra Concept.
Spy Photos taken in Gemany of an Unknown Vehicle
At first I was all excited. The article talked about a possible 500-horsepower v10 engine or a high-performance hybrid power train which made my brain twitch. They marked it down as the 2007 Toyota Supra. Although it was all only speculation, just the thought of a new Supra just about gave me an orgasm.
I then ran into some articles on Autoblog and Autospies about the possible new Supra both revealing this photo…
Scanned Photo of a new Toyota Supra in a Chinesse Magazine Article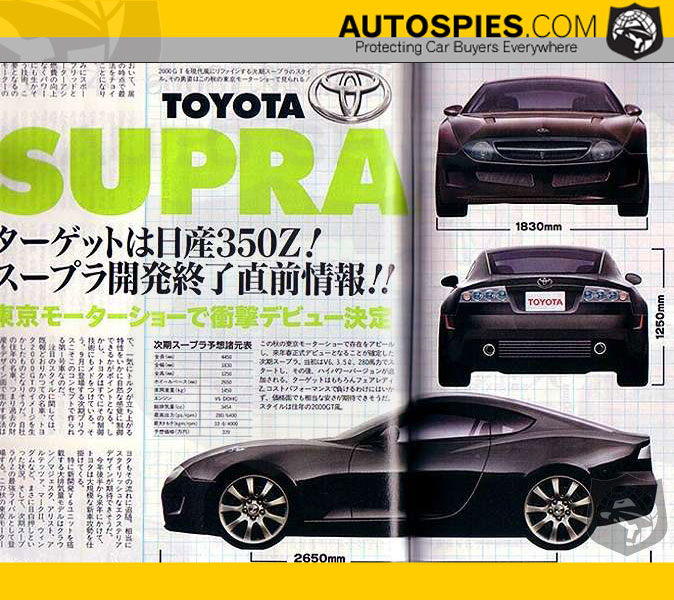 For the most part, I loved the design. I think the front needed a little work, although I thought the headlights looked at least a little inventive. I really liked the side and rear view of that photo. I knew that if the Supra actually had plans for prototypes that it would probably not look anything like that picture but it was fun just to think that it was.
Then I came to an article on this very forum talking about how the Spy pictures of the car at the test track in Germany was actually the Lexus LF-A…
Photo of the New Lexus LF-A
All possibilities of the new Supra just vanished. I honestly felt pretty disappointed. I thought it was a terrible thing for the Supra to be pulled from the U.S. market and I would have loved to see it come back and win public appeal.
But, for one reason or another I went back and read some previous articles off of Edmunds and Suprastore.com and a spark of hope crossed my mind. The articles talked about a Toyota Supra to be released at the end of 2006 and start of 2007. They also mentioned the Supra successor or Project 395 will come in a Compact Coupe and Hatchback.
Project 395 is supposed to borrow some styling from the 1967 2000 GT which you can spot in the James Bond film, You Only Live Twice. Project 395 will come in two distinct versions for production. One having a 3.5-liter v6 that was introduced in the 2006 Lexus GS 300 making 300 horsepower. The second, being a 4.3-liter v8 tweaked to give about 350hp. Styling is also to include a long front deck and short rear. Speculation is on the conventional folding soft top and the pricing which is to run close to $30,000 for the v6 to compete with the 350Z and the low $40,000 for the v8.
However, there is one sentence that grabbed my attention above all else. And I quote, "Toyota's luxury subsidiary will instead build its own super car based on the LF-A concept shown at this year's Detroit auto show." Mention of the 2007 Toyota Supra is said to debut at the 2005 Tokyo Motor Show.
2007 Toyota Supra MTV
Does this still mean that there is hope for a Concept Supra? Will the Supra Spirit Rise Again?
I can answer both those questions… There is always hope and the spirit of the Supra will rise again.
NEWLY ADDED
Although the information is not 100% authenticated, as of March 28th, 2005, it has been confirmed from a personal email to me by a Toyota Employee that the Toyota Supra release date is listed for 2007-2008.
Only an official article released by Toyota can give this information a stamp of approval, but it looks like the Supra Myth is for real and the information I have listed about the Supra is correct.
END OF EDIT