Well I finally hooked up everything. I actually did it last week but just posting now because I needed the right cable for the iPod connection.
This was on my to do list for a very long time and really happy that I'm done :banana: It will definitely come in use for my long trips.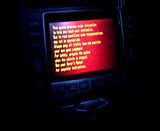 These will go on the car next. They have been sitting for a while now.