So i have a bunch of stuff that's laying around which i don't think i'll be needing anytime soon. If you have any questions, feel free to contact me.
Here's the list of what i have. The only thing i'd be interested in trading for, are a set of stock Honda/Acura, Toyota/Lexus, Nissan/Infinity wheels in 18's / 5x114.3 or a Civic Hatch. (92-00) I'd be willing to trade all 5 sets for the right car.
More Pictures available at
http://s596.photobucket.com/albums/tt49/JustForCraigslist/Wheels/?start=all
Racing Hart Wheels for sale.
1. Racing Hart C5 3 Piece $1300 (Dropped $1150)
19x8 All Around with +50 Offset
2. Racing Hart Type C $1500 (Dropped $1300)
18 x 8.5 et +25/ 18 x 9.5 et +44 5x114.3 / 4x114.3
Wheels have just had their lips repolished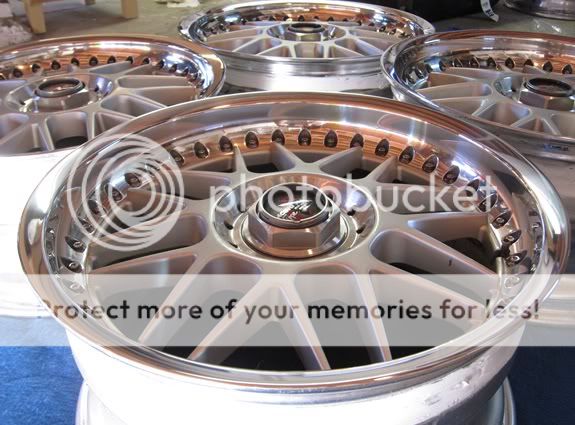 3. Racing Hart C2 (SOLD)
18 x 7.5 / 18 x 8.5 +49 Offset F+R 5x114.3 / 4x114.3
4. Racing Hart C2 $650 (Dropped $450)
18 x 7.5 All Around 5x114.3 / 4x114.3
One barrel had a crack. Comes with Caps, but does not have the C2 logo
~Update~ I just checked the wheels again, and the lug pattern seems alittle jacked up, it looks like someone had to drill the wheel locks off. Only 2 of the wheels are like that. Other two are just fine.
I'm lowering the price to $450
5. RH C5 $350
17 x 7.5 All Around 5x114.3 / 4x114.3
One piece wheel, lips have oxidation, no curb rash