This is the offical group buy. For those who signed up for the interest thread, you are obligated to pay. For those who did NOT sign up, you can join the group buy as well.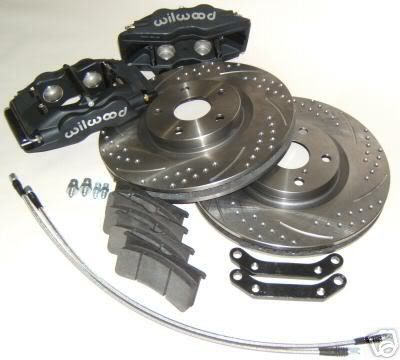 More Information on the kits
http://www.v6performance.net/forums/showthread.php?t=129063
------------------
Updates:
6/23/08: Group Buy officially started. Rear application is being tested on a 6th gen Accord, pending 7th gen fitment. They believe they should fit both applications. More details soon.
6/25/08: I will be personally on vacation till July 4th. I will be out of the country so I'm not sure if I will have internet access.
7/5/08: Invoices sent, rear kit update, and rotor update.
Rear Kit Update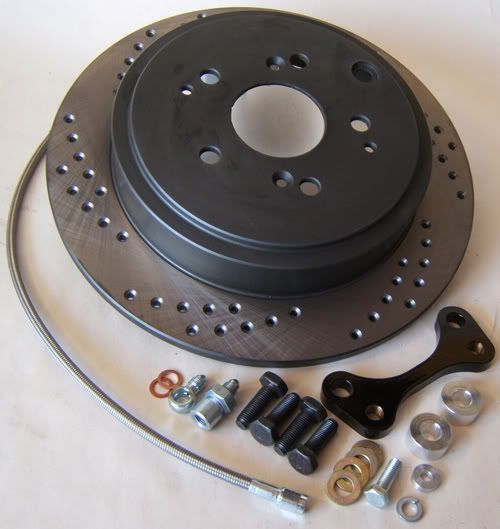 Designed to work with the factory Accord rear caliper (NOT included)..
313mm x 11mm solid one piece rotor
Caliper relocation brackets
Caliper offset adapters
Caliper and adapter mounting hardware
Flex hose reposition kit (hold down bolt and spacer)
Standard rotor surface treatment is either plain or drilled.

Regular retail price projected to be $275 (group buy $215.00)
Add slotted, or drilled and slotted rotors $100.00 (group buy $70)

Add 2 piece rotors plain $500 for the group buy
Add 2 piece rotors drilled $540 for the group buy
Add 2 piece rotors drilled and slotted or slotted only $610 for the group buy

The picture shows optional braided hose available for an additional $65.00 (group buy $40.00). NOT included as part of the $215 kit price.

If the rear kit was just rotors they would have to be the stock diameter and so would not constitute a rear brake effect upgrade. As it is the rotor upgrade represents a 20% brake effect upgrade over stock and comes with all the necessary parts to locate the caliper properly for the bigger rotor.




Options


Please state what options you would like.
Red Caliper: $85
Slotted Only: $70
Slotted & Drilled: $70
Plain: Free upon request
Drilled Only: Standard. If no requests are made, you will receive drilled only.
2 piece rotors plain: $500.00
2 piece rotors, drilled: $540.00
2 piece rotors slotted: $570.00
2 piece rotors drilled and slotted: $610.00
Braided Lines (Rear only): $40






Wheel Fitment Guide


Instructions: Download PDF
Template: Download PDF
If it doesn't "fit" you can run spacers, relatively 5mm should be enough for most wheels, but just be the judge, its not too difficult if you do this correctly.




Ordering Information


Deadline: August 10th
Cost: $590-620 (depends on the number of kits sold) + Shipping (if paid by Paypal please send 3% on top)
Shipping: contact me for estimate
Payment: Checks, money order, PayPal

PayPal: {REMOVED}

Contact: {REMOVED}

Edit: Payment must be received even for locals before August 10th. There will no refunds because I am just the middle man. All orders are custom and cannot be refunded because of the nature of the business. This is not my choice. If you need to "back out" after you sent payment, just resell the kit. It is at a low enough price to sell without a loss in the classified section of v6performance.net


Shipping Information:
Each order will have their own shipping prices that will vary from member to member. This way will save members from over paying from shipping. Pick up is available in Orange County, California.

Deadline: It is August 10th, there will be no acceptions. If you have problems with payment or delayed payment please contact me.



Green = Paid
Red = Unpaid
* = Information Received

1. *LIPPSTUH - 03 CL
2. *joe80055 - 99 TL
3. starrsearch_ - ?? Accord (?? lug)
4. ///Removed///
5. whtonblkv6 - ?? Accord (5 lug)
6. *IcyAccord - ?? Accord (5 lug)
7. HECz_ - 00 Accord (4 lug)
8. *blackaccord - 00 Accord (5 lug)(rear) - PRICE PENDING
9. ///Removed///
10. DV8 - 02 Accord (5 lug)
11. BallinFizzle89 - 06 Acura TL (5 Lug)
12. 07CBPV6-6MT - 07 Accord 6MT (5 lug)
13. *jplausell - 06 accord sedan v6 (5 lug)
14. *Milan - 03 Accord Sedan I4 (5 lug) (Front & Rear, 1-piece rotors, braided)
15. ///Removed///
16. *Sig86 CM8 - 04 accord coupe v6 6speed 5 lug (Front & Rear!)
17. StiLLHeRe153 - 07 Acura TL-S (5 lug)
18. ///Removed///
19. machiavelli - 03 accord sedan v6 (5 lug)
20. Nicepeta 06 accord coupe (rear)
21. StiLLHeRe153 TSX (rear)
21. 1greek4u ??
22. ///Removed///
23. black6speed 03+ accord 6speed (front and rear)
24. *bdeitemeyer ??
25. DIGI ENT 04 ex coupe 4cyl (front and rear)
26. *tophoplz 07 accord (5 lug front and rear)
27. Cancerous 03 6MT (Front(2 Piece) and Rear)
28. Damitslow 03 TL-s
29. ///Removed///
30. ///Removed///
31. ///Removed///
32. minhokim86 05 accord (5 lug)
33. Michael_Mansion
34. Manofsteel 02 accord v6 coupe (5 lug,CANADA)
35. *Blksniper2000 98 accord sedan (5 lug) front & rear
36. lmanluis123 00 accord v6 (5 lug, Socal) front and rear
37. *bhavik721 05 accord (5 lug, NY) front
39. *timtkwu 03 CL front
40. *Shubb1282 05 Accord Front plain rotors
41. *nic.bennett via e-mail 03 CL front
42. *DIESLE on AZ forum 03 CL front
43. *DOPE on AZ forum 05 TL
44. *Raider - 02 Accord 5lug frront & rear slotted front slotted rear, braided lines